| | |
| --- | --- |
| | |
Palgrave Macmillan
2013-08-02
224 pages
Hardback ISBN: 9780230275041
Peter J. Aspinall, Emeritus Reader in Population Health
University of Kent, UK
Miri Song, Professor of Sociology
University of Kent, UK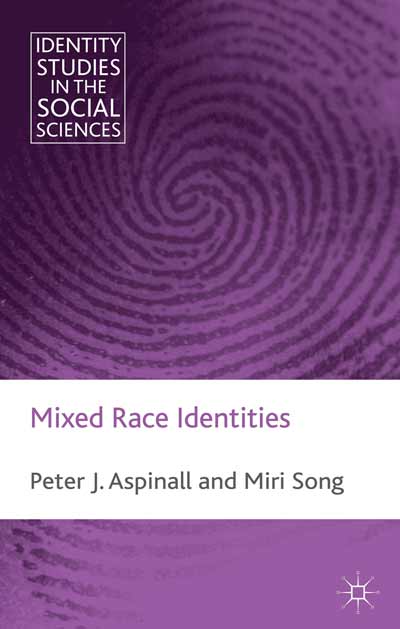 In recent years, Britain has witnessed a significant growth in the 'mixed race' population. However, we still know remarkably little about this diverse population. How do young mixed race people think about and experience their multiracial status? What kinds of ethnic options do mixed race people possess, and how may these options vary across different types of 'mixes'? How important are their ethnic and racial identities, in relation to other bases of identification and belonging? This book investigates the ethnic and racial options exercised by young mixed race people in higher education in Britain, and it is the first to explore the identifications and experiences of various types of mixed race individuals. It reveals the diverse ways in which these young people identify and experience their mixed status, the complex and contingent nature of such identities, and the rise of other identity strands, such as religion, which are now challenging race and ethnicity as a dominant identity.
Contents
Exploring 'Mixed Race' in Britain
Racial Identification: Multiplicity and Fluidity
Differential Ethnic Options?
Does Racial Mismatch in Identification Matter?
Are Mixed Race People Racially Disadvantaged?
How Central is 'Race' to Mixed Race People?
Rethinking Ethnic and Racial Classifications
Conclusion: What is the Future of 'Mixed Race' Britain?
Tags:
Miri Song
,
Palgrave Macmillan
,
Peter Aspinall
,
Peter J. Aspinall