| | |
| --- | --- |
| | |
The Dominican Racial Imaginary: Surveying the Landscape of Race and Nation in Hispaniola
Rutgers University Press
November 2016
200 pages
9 photographs, 2 figures, 2 maps, 8 tables
6 x 9
Cloth ISBN: 978-0-8135-8448-5
Paper ISBN: 978-0-8135-8447-8
Web PDF ISBN: 978-0-8135-8450-8
epub ISBN: 978-0-8135-8449-2
Milagros Ricourt, Associate Professor of Latin American and Puerto Rican Studies
Lehman College, The City University of New York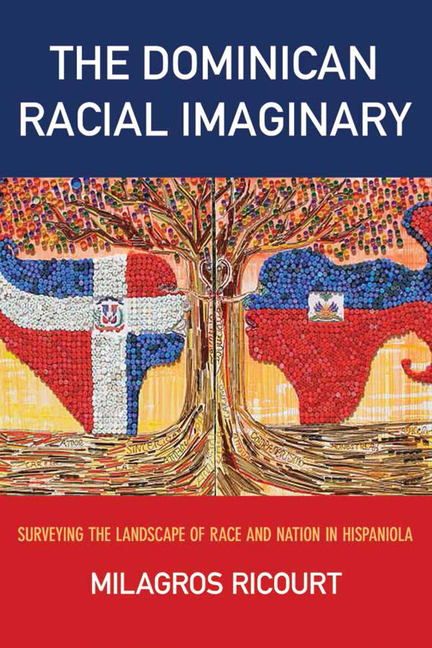 This book begins with a simple question: why do so many Dominicans deny the African components of their DNA, culture, and history?
Seeking answers, Milagros Ricourt uncovers a complex and often contradictory Dominican racial imaginary. Observing how Dominicans have traditionally identified in opposition to their neighbors on the island of Hispaniola—Haitians of African descent—she finds that the Dominican Republic's social elite has long propagated a national creation myth that conceives of the Dominican as a perfect hybrid of native islanders and Spanish settlers. Yet as she pores through rare historical documents, interviews contemporary Dominicans, and recalls her own childhood memories of life on the island, Ricourt encounters persistent challenges to this myth. Through fieldwork at the Dominican-Haitian border, she gives a firsthand look at how Dominicans are resisting the official account of their national identity and instead embracing the African influence that has always been part of their cultural heritage.
Building on the work of theorists ranging from Edward Said to Édouard Glissant, this book expands our understanding of how national and racial imaginaries develop, why they persist, and how they might be subverted. As it confronts Hispaniola's dark legacies of slavery and colonial oppression, The Dominican Racial Imaginary also delivers an inspiring message on how multicultural communities might cooperate to disrupt the enduring power of white supremacy.
Table Of Contents
Preface
Chapter 1 Introduction
Chapter 2 Border at the Crossroad
Chapter 3 The Creolization of Race
Chapter 4 Cimarrones: The Seed of Subversion
Chapter 5 Criollismo Religioso
Chapter 6 Race, Identity, and Nation
Notes
Bibliography
Index
Tags:
Dominican Republic
,
Milagros Ricourt
,
Rutgers University Press