| | |
| --- | --- |
| | |
Leave Them Wanting More: Douglas Sirk and Imitation of Life
Steyn Online
2021-09-18
Rick McGinnis, Rick's Flicks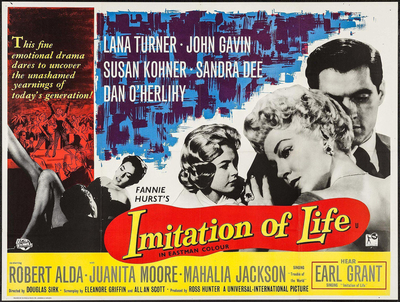 When Douglas Sirk left Hollywood he was at the zenith of his career, twenty years after he'd arrived there as a refugee from Nazi Germany, unsure if he'd ever make another movie. He had just made his most successful picture, based on what was probably the most controversial topic in America at the time. Maybe he understood that it's always best to leave when you're at the top, or maybe he was just tired.
Imitation of Life was an update of a 1934 film starring Claudette Colbert and Louise Beavers – a drama about miscegenation and racism and the colour caste system that was no less controversial when producer Ross Hunter decided to remake it – as a musical. Thankfully, by the time Sirk started filming, it was a melodrama again, and one starring Lana Turner, just after her daughter Cheryl Crane had been on trial for running a kitchen knife through Turner's boyfriend, a mobbed-up gigolo thug named Johnny Stompanato.
Based on a novel by Fanny Hurst, the original film directed by John M. Stahl had Colbert's Bea create a culinary empire based on a pancake recipe passed down through the family of Delilah (Beavers), her African-American maid. Both women prosper, but Bea's happiness is threatened when her daughter falls in love with the man she wants to marry. James M. Cain's 1941 novel Mildred Pierce – later made into a movie with Joan Crawford and a miniseries starring Kate Winslet – is basically a hardboiled rewrite of Hurst's story, excising the crucial secondary plot involving Delilah and her daughter, a young woman striving to pass for white…
Read the entire article here.
Tags:
Douglas Sirk
,
Fanny Hurst
,
Rick McGinnis
,
Steyn Online