Microaggressions and Marginality: Manifestation, Dynamics, and Impact
Wiley
July 2010
360 pages
Hardcover ISBN: 978-0-470-49139-3
Edited By:
Derald Wing Sue, Professor of Psychology and Education
Teachers College, Columbia University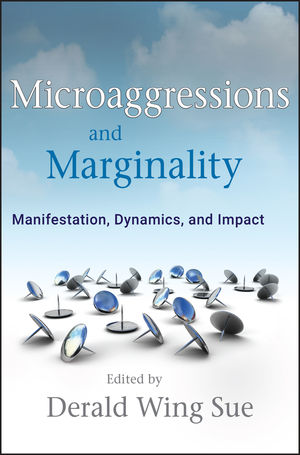 A landmark volume exploring covert bias, prejudice, and discrimination with hopeful solutions for their eventual dissolution
Exploring the psychological dynamics of unconscious and unintentional expressions of bias and prejudice toward socially devalued groups, Microaggressions and Marginality: Manifestation, Dynamics, and Impact takes an unflinching look at the numerous manifestations of these subtle biases. It thoroughly deals with the harm engendered by everyday prejudice and discrimination, as well as the concept of microaggressions beyond that of race and expressions of racism.
Edited by a nationally renowned expert in the field of multicultural counseling and ethnic and minority issues, this book features contributions by notable experts presenting original research and scholarly works on a broad spectrum of groups in our society who have traditionally been marginalized and disempowered.
The definitive source on this topic, Microaggressions and Marginality features:
In-depth chapters on microaggressions towards racial/ethnic, international/cultural, gender, LGBT, religious, social, and disabled groups
Chapters on racial/ethnic microaggressions devoted to specific populations including African Americans, Latino/Hispanic Americans, Asian Americans, indigenous populations, and biracial/multiracial people
A look at what society must do if it is to reduce prejudice and discrimination directed at these groups
Discussion of the common dynamics of covert and unintentional biases
Coping strategies enabling targets to survive such onslaughts
Timely and thought-provoking, Microaggressions and Marginality is essential reading for any professional dealing with diversity at any level, offering guidance for facing and opposing microaggressions in today's society.
Table of Contents
Preface.
About the Editor
About the Contributors
PART I: MICROAGGRESSIONS AND MARGINALITY.
PART II: RACIAL/ETHNIC MANIFESTATION OF MICROAGGRESSIONS.
Chapter 2: Black Undergraduates' Experience with Perceived Racial Microaggressions in Predominantly White Colleges and Universities (Nicole L. Watkins, Theressa L. LaBarrie, & Lauren M. Appio).
Chapter 3: Microaggressions and the Life Experience of Latina/o Americans (David P. Rivera, Erin E. Forquer, & Rebecca Rangel).
Chapter 4: Racial Microaggressions Directed at Asian Americans: Modern Forms of Prejudice and Discrimination (Annie I. Lin).
Chapter 5: The Context of Racial Microaggressions against Indigenous Peoples: Same Old Racism or Something New? (Jill S. Hill, Suah Kim, & Chantea Williams).
Chapter 6: Multiracial Microaggressions: Exposing Monoracism in Everyday Life and Clinical Practice (Marc P. Johnston & Kevin L. Nadal).
Chapter 7: Microaggressions and the Pipeline for Scholars of Color (Fernando Guzman, Jesus Trevino, Fernand Lubuguin, & Bushra Aryan).
PART III: OTHER SOCIALLY DEVALUED GROUP MICROAGGRESSIONS: International/Cultural, Sexual Orientation and Transgender, Disability, Class and Religious.
Chapter 8: Microaggressions Experienced by International Students Attending U. S. Institutions of Higher Education (Suah Kim & Rachel H. Kim).
Chapter 9: The Manifestation of Gender Microaggressions (Christina M. Capodilupo, Kevin L. Nadal, Lindsay Corman, Sahran Hamit, Oliver Lyons, & Alexa Weinberg).
Chapter 10: Sexual Orientation and Transgender Microaggressions: Implications for Mental Health and Counseling (Kevin L. Nadal, David P. Rivera, & Melissa J.H. Corpus).
Chapter 11: Microaggressive Experiences of People with Disabilities (Richard M. Keller & Corinne E. Galgay).
Chapter 12: Class Dismissed: Making the Case for the Study of Classist Microaggressions (Laura Smith & Rebecca M. Redington).
Chapter 13: Religious Microaggressions in the United States: Mental Health Implications for Religious Minority Groups (Kevin L. Nadal, Marie-Anne Issa, Katie E. Griffin, Sahran Hamit, & Oliver B. Lyons).
PART IV: MICROAGGRESSION RESEARCH.
Chapter 14: Microaggression Research: Methodological Review and Recommendations (Michael Y. Lau & Chantea D. Williams).
Author Biographies.
Tags:
Alexa Weinberg
,
Annie I. Lin
,
Annie Lin
,
Bushra Aryan
,
Chantea D. Williams
,
Chantea Williams
,
Christina Capodilupo
,
Christina M. Capodilupo
,
Corinne E. Galgay
,
Corinne Galgay
,
David P. Rivera
,
David Rivera
,
Derald Sue
,
Derald Wing Sue
,
Erin E. Forquer
,
Erin Forquer
,
Fernand Lubuguin
,
Fernando Guzman
,
Jesus Trevino
,
Jill Hill
,
Jill S. Hill
,
Katie E. Griffin
,
Katie Griffin
,
Kevin L. Nadal
,
Kevin Nadal
,
Laura Smith
,
Lauren Appio
,
Lauren M. Appio
,
Lindsay Corman
,
Marc Johnston
,
Marc P. Johnston
,
Marie-Anne Issa
,
Melissa Corpus
,
Melissa J. H. Corpus
,
Michael Lau & Chantea Williams
,
Michael Y. Lau
,
Nicole L. Watkins
,
Oliver B. Lyons
,
Oliver Lyons
,
Rachel Kim
,
Rebecca M. Redington
,
Rebecca Rangel
,
Rebecca Redington
,
Richard Keller
,
Richard M. Keller
,
Sahran Hamit
,
Suah Kim
,
Suah Kim & Rachel H. Kim
,
Theressa L. LaBarrie
,
Theressa LaBarrie
,
Wiley