Panel discusses mixed race scholarship
Washington Square News: NYU's Independent Student Newspaper
2015-04-21
Amanda Morris, Contributing Writer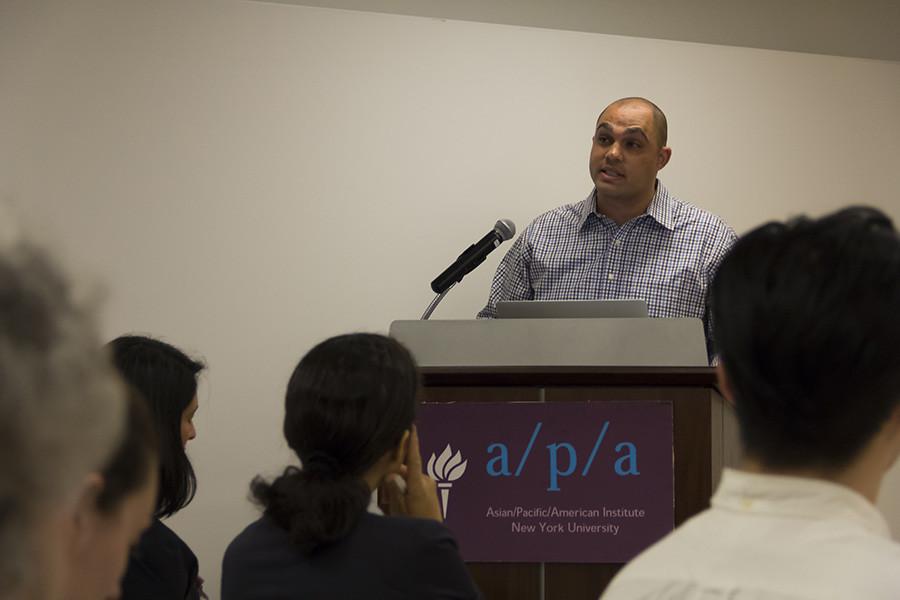 Jared Sexton speaks on the topic of mixed race individuals. Sexton is the director of the African American Studies program in UC Irvine. (Shawn Paik)
In studying mixed race identities, the historical focus has been on the individual, but speakers at Monday's roundtable conversation "What's Radical About Mixed Race?" aimed to reframe discussion in a way that allows for more nuanced understanding of racial identity.
Speakers at the event, which was hosted by the Asian/Pacific/American Institute, included Minelle Mahtani, an associate professor at the University of Toronto, and Jared Sexton, an associate professor and director of African American studies at the University of California, Irvine.
Sexton said hypodescent, a condition in which people with multiple race identities are automatically classified according to their non-white race, is one of the concerns researchers of mixed race have had in the past. Sexton said he wants researchers to re-examine this issue in a larger framework of racial stereotypes.
"Some of the preoccupations are the issue of hypodescent and challenging its reflexive use, but in challenging hypodescent, multiracial studies also runs the risk of re-stigmatizing the very identities that it claims to combine," Sexton said.
Mahtani said some mixed raced individuals try to fuse their various identities, but often reinforce white supremacy by ignoring their non-white ancestry. Mahtani added that the media often takes advantage of people of mixed race, using their perceived racial ambiguity to appeal to several demographics at once…
…"We need to ask new questions," Mahtani said. "Not 'What is mixed race?' but 'How does the meaning of mixed race change over time?'"
University of Washington student Na'quel Walker, who attended the event, said she often had trouble with her identity as a child.
"When I was younger, for me to say 'I'm mixed,' was to denounce blackness," Walker said. "I was trying to elevate myself because I wanted to feel special or different, but I was running away from my blackness."
Nicole Holliday, a doctoral student at NYU in linguistics who is studying the speech patterns of people of mixed race, agreed that research into mixed race culture needs to take a new approach…
Read the entire article here.
Tags:
a/p/a
,
Amanda Morris
,
Asian/Pacific/American Institute
,
Jared Sexton
,
Minelle Mahtani
,
Na'quel Walker
,
New York University
,
Nicole Holliday
,
Shawn Paik
,
Washington Square News
,
Washington Square News: NYU's Independent Student Newspaper