| | |
| --- | --- |
| | |
Rutgers University Press
October 2009 (Originally Published in 1933)
304 pages
Paper ISBN: 978-0-8135-4632-2
Cloth ISBN: 978-0-8135-4631-5
Jessie Redmon Fauset (1882-1961)
Edited and with an Introduction by:
Cherene Sherrard-Johnson, Professor of English
University of Wisconsin, Madison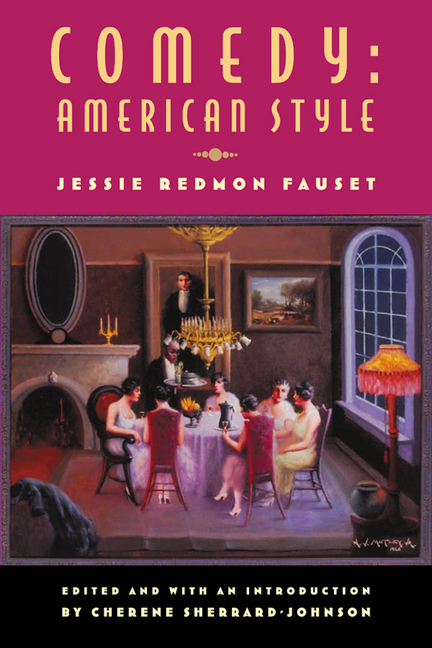 Comedy: American Style, Jessie Redmon Fauset's fourth and final novel, recounts the tragic tale of a family's destruction—the story of a mother who denies her clan its heritage. Originally published in 1933, this intense narrative stands the test of time and continues to raise compelling, disturbing, and still contemporary themes of color prejudice and racial self-hatred. Several of today's bestselling novelists echo subject matter first visited in Fauset's commanding work, which overflows with rich, vivid, and complex characters who explore questions of color, passing, and black identity.
Cherene Sherrard-Johnson's introduction places this literary classic in both the new modernist and transatlantic contexts and will be embraced by those interested in earlytwentieth-century women writers, novels about passing, the Harlem Renaissance, the black/white divide, and diaspora studies. Selected essays and poems penned by Fauset are also included, among them "Yarrow Revisited" and "Oriflamme," which help highlight the full canon of her extraordinary contribution to literature and provide contextual background to the novel.
Tags:
Cherene Sherrard-Johnson
,
Jessie Fauset
,
Jessie Redmon Fauset
,
Rutgers University Press