| | |
| --- | --- |
| | |
Lynne Rienner Publishers
2009
251 pages
ISBN: 978-1-58826-666-8
Edited by:
Bernd Reiter, Associate Professor of Political Science
University of South Florida
Gladys L. Mitchell (Gladys Mitchell-Walthour), Assistant Professor of Political Science
Denison University, Granville, Ohio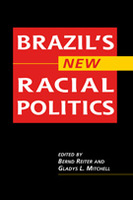 As the popular myth of racial equality in Brazil crumbles beneath the weight of current grassroots politics, how will the country redefine itself as a multiethnic nation? Brazil's New Racial Politics captures the myriad questions and problems unleashed by a growing awareness of the ways racism structures Brazilian society.
 The authors bridge the gap between scholarship and activism as they tackle issues ranging from white privilege to black power, from government policy to popular advocacy, and from historical injustices to recent victories. The result is a rich exploration of the conflicting social realities characterizing Brazil today, as well as their far-reaching political implications.
Contents
Foreword—Michael Mitchell.
1. The New Politics of Race in Brazil—Bernd Reiter and Gladys L. Mitchell.
BLACK EMPOWERMENT AND WHITE PRIVILEGE.

2. Whiteness as Capital: Constructing Inclusion and Defending Privilege—Bernd  Reiter.
3. Politicizing Blackness: Afro-Brazilian Color Identification and Candidate Preference—Gladys L. Mitchell
4. Out of Place: The Experience of the Black Middle Class—Angela Figueiredo.
5. The Political Shock of the Year: The Press and the Election of a Black Mayor in São Paulo—Cloves Luiz Pereira Oliveira.

AFFIRMATIVE ACTION CONTESTED.

6. Affirmative Action and Identity—Seth Racusen.
7. Opportunities and Challenges for the Afro-Brazilian Movement—Mónica Treviño González.

THE NEW POLITICS OF BLACK POWER.

8. Racialized History and Urban Politics: Black Women's Wisdom in Grassroots Struggles—Keisha-Khan Y. Perry.
9. Black NGOs and "Conscious" Rap: New Agents of the Antiracism Struggle in Brazil—Sales Augusto dos Santos.
10. Power and Black Organizing in Brazil—Fernando Conceição.
11. New Social Activism: University Entry Courses for Black and Poor Students—Renato Emerson dos Santos.

CONCLUSION.

After the Racial Democracy—Bernd Reiter and Gladys L. Mitchell.
Tags:
Angela Figueiredo
,
Bernd Reiter
,
Cloves Luiz Pereira Oliveira
,
Fernando Conceição
,
Gladys L. Mitchell
,
Gladys Mitchell-Walthour
,
Keisha-Khan Y. Perry
,
Lynne Rienner Publishers
,
Michael Mitchell
,
Mónica Treviño González
,
Renato Emerson dos Santos
,
Sales Augusto dos Santos
,
Seth Racusen