Athabasca University Press
May 2012
144 pages
Paperback ISBN: 978-1-926836-69-0
eBook (PDF) ISBN: 978-1-926836-70-6
eBook (EPub) ISBN: 978-1-926836-71-3
Naomi McIlwraith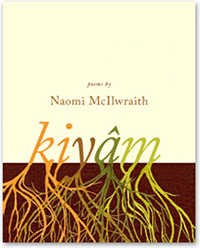 Through poems that move between the two languages, McIlwraith explores the beauty of the intersection between nêhiyawêwin, the Plains Cree language, and English, âkayâsîmowin. Written to honour her father's facility in nêhiyawêwin and her mother's beauty and generosity as an inheritor of Cree, Ojibwe, Scottish, and English, kiyâm articulates a powerful yearning for family, history, peace, and love.
Download the entire book here.
This work is licensed under a Creative Commons License. It may be reproduced for non-commercial purposes, provided that the original author is credited.
Tags:
Athabasca University Press
,
Naomi McIlwraith