| | |
| --- | --- |
| | |
Caribbean Racisms: Connections and Complexities in the Racialization of the Caribbean Region
Palgrave Macmillan
May 2015
216 pages
Hardcover ISBN: 9781137287274
Ebook (EPUB) ISBN: 9781137287298
Ebook (PDF) ISBN: 9781137287281
Shirley Anne Tate, Professor of Sociology
Leeds Beckett University, Leeds, United Kingdom
Ian Law, Professor of Racism and Ethnicity Studies
School of Sociology and Social Policy
University of Leeds, United Kingdom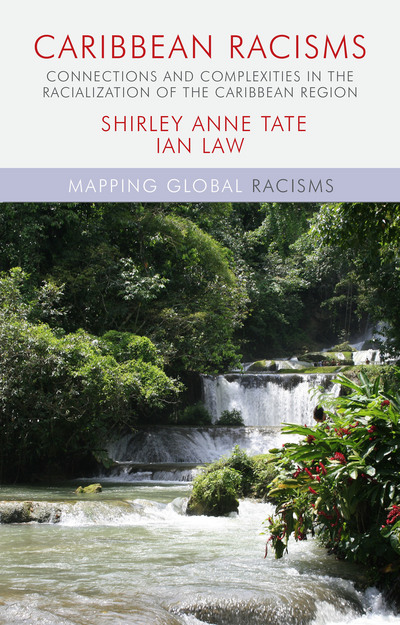 This book identifies and engages with an analysis of racism in the Caribbean region, providing an empirically-based theoretical re-framing of both the racialisation of the globe and evaluation of the prospects for anti-racism and the post-racial.
The thirty contemporary territories of the Caribbean and their differing colonial and post-colonial contexts provide a highly dynamic setting urging a re-assessment of the ways in which contemporary processes of racialisation are working. This book seeks to develop a new account of racialisation in this region, challenging established arguments, propositions and narratives of racial Caribbeanisation.
With new insights into contemporary forms of racialisation in Jamaica, Trinidad and Tobago, Cuba, Puerto Rico, the Dominican Republic and Haiti, this will be essential reading for scholars of Race and Ethnicity.
Contents
Acknowledgements
About the Authors
1 Racial Caribbeanization: Origins and Development
2 Racial States in the Post-Emancipation Caribbean
3 Mixing, Métissage and Mestizaje
4 Whiteness and the Contemporary Caribbean
5 The 'Post-Race Contemporary' and the Caribbean
6 Polyracial Neoliberalism
Notes
References
Index 
Tags:
Cuba
,
Dominican Republic
,
Haiti
,
Ian Law
,
Jamaica
,
Palgrave Macmillan
,
Puerto Rico
,
Shirley Anne Tate
,
Trinidad and Tobago