More Than I Imagined: What a Black Man Discovered About the White Mother He Never Knew
Convergent Books (an imprint of Penguin Random House)
2023-05-02
240 Pages
5-1/2 x 8-1/4
Hardcover ISBN: 9780593443040
John Blake, Award-Winning CNN Journalist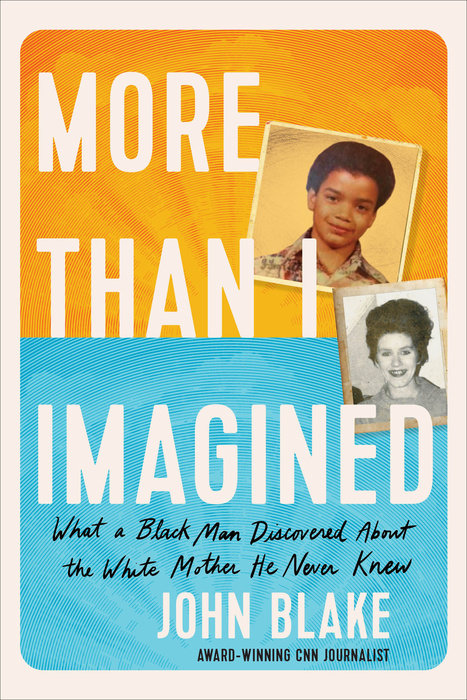 An award-winning journalist tells the story of his quest to reconcile with his white mother and the family he'd never met—and how faith brought them all together.
John Blake grew up in a notorious Black neighborhood in inner-city Baltimore that became the setting for the HBO series The Wire. There he became a self-described "closeted biracial person," hostile toward white people while hiding the truth of his mother's race. The son of a Black man and a white woman who met when interracial marriage was still illegal, Blake knew this much about his mother: She vanished from his life not long after his birth, and her family rejected him because of his race.
But at the age of seventeen, Blake had a surprise encounter that uncovered a disturbing family secret. This launched him on a quest to reconcile with his white family. His search centered on two questions: "Where is my mother?" and "Where do I belong?" More Than I Imagined is Blake's propulsive true story about how he answered those questions with the help of an interracial church, a loving caregiver's sacrifice, and an inexplicable childhood encounter that taught him the importance of forgiveness.
Blake covered some of the biggest stories about race in America for twenty-five years before realizing that "facts don't change people, relationships do." He owes this discovery to "radical integration," which was the only way forward for him and his family—and is the only way forward for America as a multiracial democracy. More Than I Imagined is a hopeful story for our difficult times.
Tags:
Convergent Books
,
John Blake
,
Penguin Random House