BBC News
2019-05-21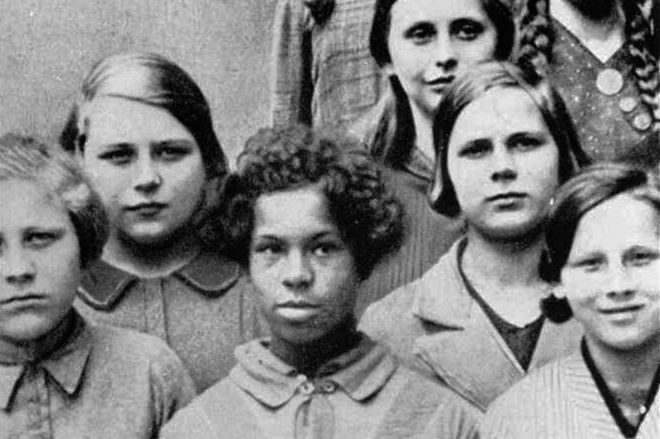 This photo was used in genetics lectures at Germany's State Academy for Race and Health Library of Congress
Film director Amma Asante came across an old photograph taken in Nazi Germany of a black schoolgirl by chance.
Standing among her white classmates, who stare straight into the camera, she enigmatically glances to the side.
Curiosity about the photograph – who the girl was and what she was doing in Germany – set the award-winning film-maker off on a path that led to Where Hands Touch, a new movie starring Amandla Stenberg and George MacKay.
It is an imagined account of a mixed-race teenager's clandestine relationship with a Hitler Youth member, but it is based on historical record…
…Racist caricatures
The derogatory term "Rhineland bastards" was coined in the 1920s to refer to the 600-800 mixed-race children who were the result of those relationships.
The term spoke to some people's imagined fears of an impure race. Made-up stories and racist caricatures of sexually predatory African soldiers were circulated at the time, fuelling concern…
Read the entire article here.
Tags:
Afro-Germans
,
Amandla Stenberg
,
Amma Asante
,
BBC
,
BBC News
,
Damian Zane
,
George MacKay
,
Germany
,
Nazi Germany