Ethnic Identity Problems and Prospects for the Twenty-first Century – Fourth Edition
AltaMira Press
June 2006
436 pages
7 x 9 1/4
Hardback ISBN: 978-0-7591-0972-8
Paperback ISBN: 978-0-7591-0973-5
Edited by:
Lola Romanucci-Ross, Professor Emerita of Family and Preventive Medicine
University of California, San Diego
De George A. Vos (1922-2010), Professor Emeritus of Anthropology
University of California, Berkeley
Takeyuki Tsuda, Associate Professor of Anthropology
Arizona State University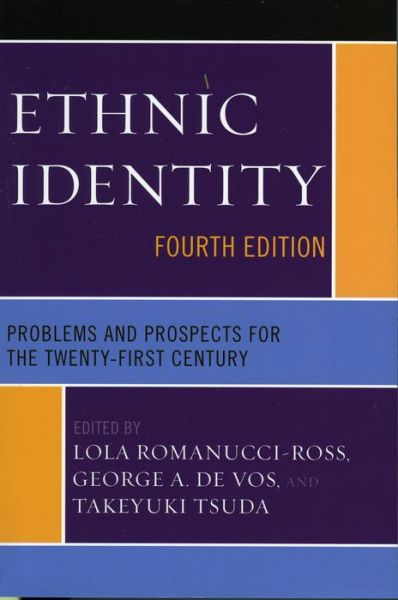 In this thoroughly revised fourth edition, with ten new chapters, the editors provide thought-provoking discussions on the importance of ethnicity in different cultural and social contexts. The authors focus especially on changing ethnic and national identities, on migration and ethnic minorities, on ethnic ascription versus self-definitions, and on shifting ethnic identities and political control. The international group of scholars examines ethnic identities, conflicts and accommodations around the globe, in Africa (including Zaire and South Africa), Belgium, Brazil, Bulgaria, Italy, Japan, Lithuania, Macedonia, the Netherlands, the United States, Thailand, and the former Yugoslavia. It will serve as an excellent text for courses in race & ethnic relations, and anthropology and ethnic studies.
Tags:
AltaMira Press
,
Belgium
,
Brazil
,
Bulgaria
,
Carola Suarez-Orozco
,
Czeslaw Milosz
,
De George A. Vos
,
Eugeen Roosens
,
Fabienne Doucet
,
George A. De Vos
,
Hiroshi Wagatsuma
,
Italy
,
Japan
,
Lithuania
,
Lola Romanucci-Ross
,
Lotte Hughes
,
Louis Freedberg
,
Macedonia
,
Mary Kay Gilliland
,
Nancy Scheper-Hughes
,
ndrea Boscoboinik
,
Netherlands
,
Philip Hermans
,
Takeyuki Tsuda
,
Thailand
,
Yos Santasombat
,
Zaire