Incognegro: Renaissance Author Mat Johnson Talks About Living a Black Life With Skin That Can Look White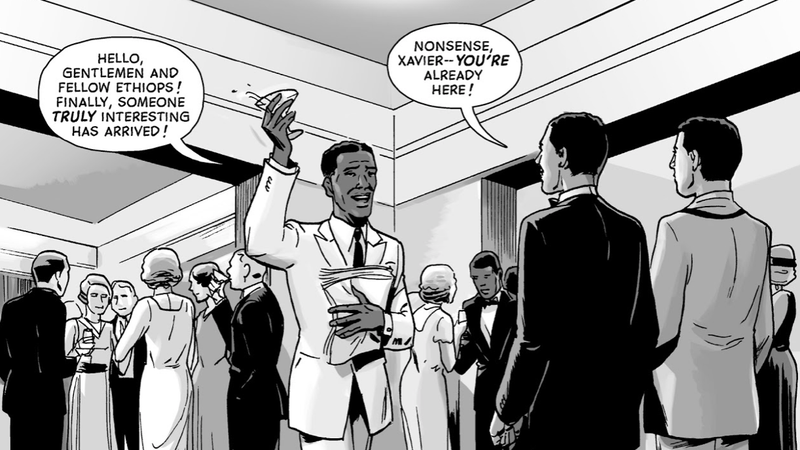 Dark Horse
In Dark Horse's Incognegro: Renaissance, Zane Pinchback—a young black journalist and New York transplant by way of Tupelo, Mississippi—finds himself smack dab in the middle of Harlem at the height of its Renaissance during the 1920s. Zane, like Incognegro: Renaissance creator Mat Johnson, is a black man with a light enough complexion that people are sometimes unsure or entirely unaware of his race.
To those who know him, Zane's identity isn't a question, but for many of the new people he encounters in New York—particularly the white ones—Zane is able to pass as white, and thus move through certain spaces that other black people can't. Drawn by Warren Pleece, Incognegro: Renaissance opens on a very taboo and illegal book party in Harlem where black and white people co-mingle as the champagne flows freely.
When a black guest suddenly turns up dead of an apparent suicide, the authorities show up on the scene to shut the gathering down, but have zero interest in investigating whether the death may be a homicide because the man is black. Realizing that his ability to pass (and willingness to do work others won't) might allow him to dig deeper into the potential crime, Zane sets out on a mission to uncover the truth.
When I spoke with Johnson recently about his inspiration for the new series, he explained that much of the core premise is based on his own experiences and a life-long love of Walter Francis White, the civil rights activist who was the head of the NAACP from 1931 to 1955. But what Johnson really wants readers to get out of the series, he said, was a better understanding of the fact that identity in all its forms is fluid…
Read the entire interview here.
Tags:
Charles Pulliam-Moore
,
comics
,
Dark Horse
,
Harlem
,
Incognegro: Renaissance
,
Mat Johnson
,
New York City
,
Walter Francis White
,
Walter White
,
Warren Pleece
,
Zane Pinchback