Theories of Race and Ethnicity: Contemporary Debates and Perspectives
Cambridge University Press
January 2015
Paperback ISBN: 9780521154260
Edited by:
Karim Murji, Senior Lecturer in Sociology
The Open University, United Kingdom
John Solomos, Professor of Sociology
University of Warwick, United Kingdom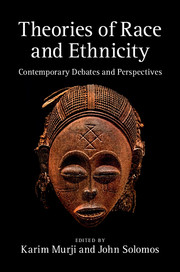 How have research agendas on race and ethnic relations changed over the past two decades and what new developments have emerged? Theories of Race and Ethnicity provides a comprehensive and cutting-edge collection of theoretically grounded and empirically informed essays. It covers a range of key issues in race and ethnicity studies, such as genetics and race, post-race debates, racial eliminativism and the legacy of Barack Obama, and mixed race identities. The contributions are by leading writers on a range of perspectives employed in studying ethnicity and race, including critical race feminism, critical rationalism, psychoanalysis, performativity, whiteness studies and sexuality. Written in an authoritative yet accessible style, this volume is suitable for researchers and advanced students, offering scholars a survey of the state of the art in the literature, and students an overview of the field.
A unique set of views on race and ethnicity by writers committed to advancing scholarship
Covers some of the latest issues and debates in the field, including genetics, post-race eliminativism and mixed race identities from a range of perspectives
Opening and closing editorial chapters provide a route map of shifts in the field of race and ethnicity studies, and return to some recurring debates to demonstrate how the field changes and has continuing and persisting questions in theorising race and ethnicity
Table of Contents
1. Introduction: situating the present Karim Murji and John Solomos
Part I. Debates: Introduction to Part I

2. Race and the science of difference in the age of genomics Sandra Soo-Jin Lee
3. Colour-blind egalitarianism as the new racial norm Charles A. Gallagher
4. Getting over the Obama hope hangover: the new racism in 'post-racial' America Eduardo Bonilla-Silva (with Victor E. Ray)
5. Does a recognition of mixed race move us toward post-race? Miri Song
6. Acting 'as' and acting 'as if': two approaches to the politics of race and migration Leah Bassel
7. Can race be eradicated? The post-racial problematic Brett St Louis

Part II. Perspectives: Introduction to Part II

8. Superseding race in sociology: the perspective of critical rationalism Michael Banton
9. Critical race feminism Adrien K. Wing
10. Performativity and 'raced' bodies Shirley Tate
11. Racism: psychoanalytic and psycho-social approaches Simon Clarke
12. The sociology of whiteness: beyond good and evil white people Matthew W. Hughey
13. (Sexual) whiteness and national identity: race, class and sexuality in colour-blind France Éric Fassin
14. Racial comparisons, relational racisms: some thoughts on method David Theo Goldberg

15. Conclusion: back to the future Karim Murji and John Solomos
Tags:
Adrien K. Wing
,
Brett St Louis
,
Cambridge University Press
,
Charles A. Gallagher
,
David Theo Goldberg
,
Eduardo Bonilla-Silva
,
Éric Fassin
,
John Solomos
,
Karim Murji
,
Leah Bassel
,
Matthew W. Hughey
,
Michael Banton
,
Miri Song
,
Sandra Soo-Jin Lee
,
Shirley Tate
,
Simon Clarke
,
Victor E. Ray