Dissent
2021-10-27
Charles Taylor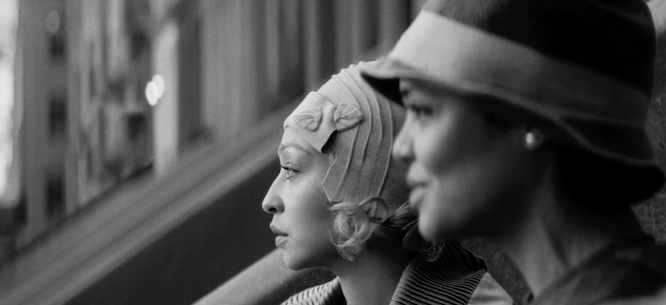 Rebecca Hall's adaptation of Nella Larsen's 1929 novel continues the author's exploration of the suffocating strictures of the color line.
Making a movie of Nella Larsen's 1929 novel Passing, one of the great works of the Harlem Renaissance—and, I'd argue, a great American novel—would be tricky in any era. That the actress Rebecca Hall, making her directing debut, has done a close-to-devastating job of it in this era is a remarkable achievement.
The novel is the story of two girlhood friends who reencounter each other as young, married women, one passing for white and the other firmly settled into the life of Harlem's black bourgeoisie. Larsen practically invites the careless reader to fall into well-intentioned sociological clichés—in other words, to believe that this is a novel about the tragedy that befalls those who, driven by racist persecution, cross the color line and betray their own.
Actually, the novel is about the absurdity of the color line as a concept, about race as "the thing that bound and suffocated." For Larsen, the idea that you could betray your race was another way of saying that people should stick to their own kind. It's the passing Clare, a slim, pale-skinned, heedless beauty, who is Larsen's heroine. Clare, taken in as a maid by her poor white aunts when her alcoholic father dies, doesn't decide to pass because she's oppressed but because she's shunned by the well-heeled black people among whom she grew up. (In one stinging scene, Clare, already passing, approaches an old school friend whom she recognizes while shopping in Marshall Field's, only to have the woman cut her dead.) Clare is hungry for life and for pleasure, which she takes as it comes to her. The way in which she crosses back and forth between black and white, between the thrill of a Negro Welfare League dance and white upper-middle-class society, makes a hash of the polite segregation—of both race and class—to which the novel's other protagonist, Irene, pays obeisance…
Read the entire article here.
Tags:
Charles Taylor
,
Dissent
,
Dissent Magazine
,
Nella Larsen
,
Netflix
,
Rebecca Hall
,
Ruth Negga
,
Tessa Thompson