Biracial and Multiracial Students: New Directions for Student Services, Number 123
Jossey-Bass an imprint of John Wiley & Sons
October 2008
88 pages
Paperback ISBN: 978-0-470-42219-9
Edited by
Kristen A. Renn, Associate Professor of Higher, Adult, and Lifelong Education
Michigan State University
Paul Shang, Assistant Vice President and Dean of Students
University of Oregon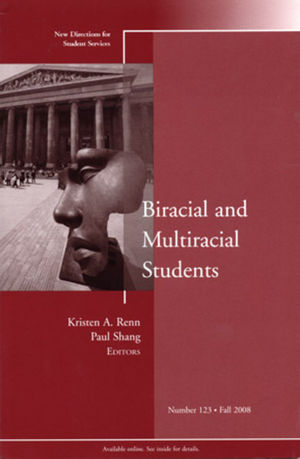 Editors and contributors of this important work have designed it to meet the needs of student affairs professionals who have previously had few resources on which to draw in understanding the experiences and identities of mixed race students.
Within a multiracial framework, the authors address the contemporary context for understanding racial issues on campus; several approaches to identity developments; experiences of students and faculty; and student services, programs, and policy, including a Canadian perspective.
A substantial amount of literature addresses developmental and service needs of monoracial students of color (Asian and Pacific Islander, Black, Latino, Native American), Student affairs educators have observed an increase in the number of biracial and multiracial college students: students who have parents from more than one federally defined racial or ethnic background such as Asian-White, Latino-Black, or Native-White-Latino. According to data from the U.S. Census Bureau, this population is only going to increase. This volume is sure to become an indispensable resource for student affairs professionals serving the needs of this increasing student population.
This is the 123nd volume of the Jossey-Bass quarterly report series New Directions for Student Services, an indispensable resource for vice presidents of student affairs, deans of students, student counselors, and other student services professionals.
Each issue of New Directions for Student Services offers guidelines and programs for aiding students in their total development: emotional, social, physical, and intellectual.
Table of Contents
Editor's Notes
An Introduction to Social and Historical Factors Affecting Multiracial College Students (Paul Shang)
This chapter introduces the volume by describing social and higher education challenges that impact the identities and experiences of traditional age biracial and multiracial college students.
Research on Biracial and Multiracial Identity Development: Overview and Synthesis (Kristen A. Renn)
This chapter presents three main bodies of research on identity development of biracial and multiracial college students: foundational theories, ecological models, and psychological studies of the impact of multiracial identity.
Exploring the Experiences and Self-Labeling of Mixed-Race Individuals with Two Minority Parents (Donna M. Talbot)
A student development researcher describes a qualitative study of ten mixed-race young adults whose parents are from different minority monoracial groups (Black, Latino/Hispanic, Asian, or Native American).
Student Perspectives on Multiracial Identity (Alissa R. King)
In the context of research on multiracial student experiences, this chapter provides personal reflections of a multiracial individual on campus at a time when Who am I? and What are you? questions prevail.
Multiracial Student Services Come of Age: The State of Multiracial Student Services in Higher Education in the United States (Michael Paul A. Wong, Joshua Buckner)
The authors describe emerging services to serve multiracial students, the service traditions from which these services evolve, how they are staffed, and their relationships with student organizations.
The Space in Between: Issues for Multiracial Student Organizations and Advising (C. Casey Ozaki, Marc Johnston)
Based on research and experience working with multiracial student organizations and leaders, the authors describe the functions and challenges of these student groups and provide suggestions for student affairs educators who work with them.
Being Multiracial in a Wired Society: Using the Internet to Define Identity and Community on Campus (Heather Shea Gasser)
This chapter describes established and emerging technologies, including online social networking, blogs, and wikis, that affect how multiracial students form communities and express their identities.
Bicultural Faculty and Their Professional Adaptation (Michael J. Cuyjet)
An associate professor and graduate school dean describes the ways that minority faculty members, monoracial and biracial, must learn to be bicultural to thrive in the dominant culture of higher education at predominantly White institutions.
Looking North: Exploring Multiracial Experiences in a Canadian Context (Leanne Taylor)
A Canadian scholar describes a particular context for understanding mixed-race college student experiences outside the United States and raises questions for higher education policy and student services practice.
Student Affairs and Higher Education Policy Issues Related to Multiracial Students (Angela Kellogg, Amanda Suniti Niskodé)
This chapter describes student affairs policy issues that have particular impact on multiracial students, such as collecting and reporting data on student race/ethnicity, implementing campus programs and services, and enacting affirmative action.
Notes
Tags:
Alissa R. King
,
Amanda Suniti Niskodé
,
Angela Kellogg
,
C. Casey Ozaki
,
Donna M. Talbot
,
Heather Shea Gasser
,
John Wiley & Sons
,
Joshua Buckner
,
Jossey-Bass
,
Kristen A. Renn
,
Kristen Renn
,
Leanne Taylor
,
Marc Johnston
,
Michael J. Cuyjet
,
Michael Paul A. Wong
,
Paul Shang