Neo-Passing: Performing Identity after Jim Crow
University of Illinois Press
March 2018
296 pages
6 x 9 in.
11 black & white photographs
Cloth ISBN: 978-0-252-04158-7
Paper ISBN: 978-0-252-08323-5
Ebook ISBN: 978-0-252-05024-4
Edited by:
Mollie Godfrey, Assistant Professor of English
James Madison University, Harrisonburg, Virginia
Vershawn Ashanti Young, Associate Professor of Drama and Speech Communication
University of Waterloo, Waterloo, Ontario, Canada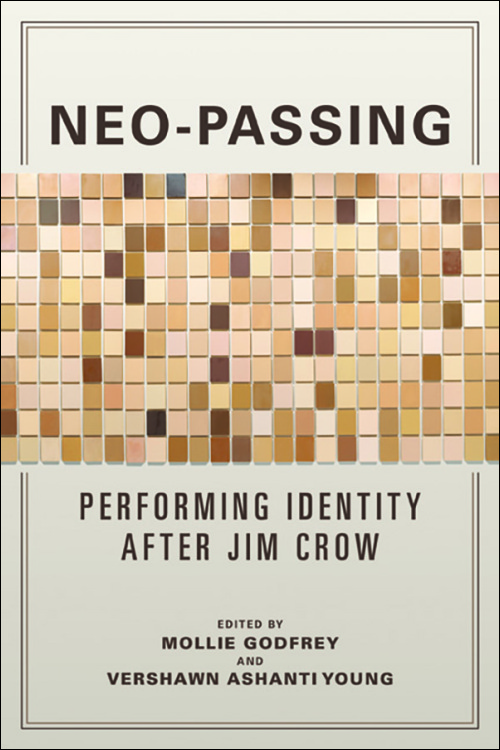 Crossing old boundaries to create new identities
African Americans once passed as whites to escape the pains of racism. Today's neo-passing has pushed the old idea of passing in extraordinary new directions. A white author uses an Asian pen name; heterosexuals live "out" as gay; and, irony of ironies, whites try to pass as black.
Mollie Godfrey and Vershawn Ashanti Young present essays that explore practices, performances, and texts of neo-passing in our supposedly postracial moment. The authors move from the postracial imagery of Angry Black White Boy and the issues of sexual orientation and race in ZZ Packer's short fiction to the politics of Dave Chappelle's skits as a black President George W. Bush. Together, the works reveal that the questions raised by neo-passing—questions about performing and contesting identity in relation to social norms—remain as relevant today as in the past.
Gale Wald offers a foreword and Michele Elam an afterword.
Contributors: Derek Adams, Christopher M. Brown, Martha J. Cutter, Marcia Alesan Dawkins, Alisha Gaines, Jennifer Glaser, Allyson Hobbs, Brandon J. Manning, Loran Marsan, Lara Narcisi, Eden Osucha, and Deborah Elizabeth Whaley
Tags:
Adam Mansbach
,
Alisha Gaines
,
Allyson Hobbs
,
Brandon J. Manning
,
Christopher M. Brown
,
Dave Chappelle
,
Deborah Elizabeth Whaley
,
Derek Adams
,
Eden Osucha
,
Gale Wald
,
Jennifer Glaser
,
Lara Narcisi
,
Loran Marsan
,
Marcia A. Dawkins
,
Marcia Alesan Dawkins
,
Marcia Dawkins
,
Martha Cutter
,
Martha J. Cutter
,
Michele Elam
,
Mollie Godfrey
,
University of Illinois Press
,
Vershawn Ashanti Young
,
ZZ Packer