| | |
| --- | --- |
| Posted in Anthologies, Books, Canada, Economics, History, Identity Development/Psychology, Literary/Artistic Criticism, Media Archive, Philosophy, Social Science, United States on 2016-01-03 15:34Z by Steven | |
"I Don't See Color" Personal and Critical Perspectives on White Privilege
Pennsylvania State University Press
2015
280 pages
6 x 9
Hardcover ISBN: 978-0-271-06499-4
Edited by:
Bettina Bergo, Associate Professor of Philosophy
Université de Montréal, Montreal, Canada
Tracey Nicholls, Associate Professor of Philosophy
Lewis University, Romeoville, Illinois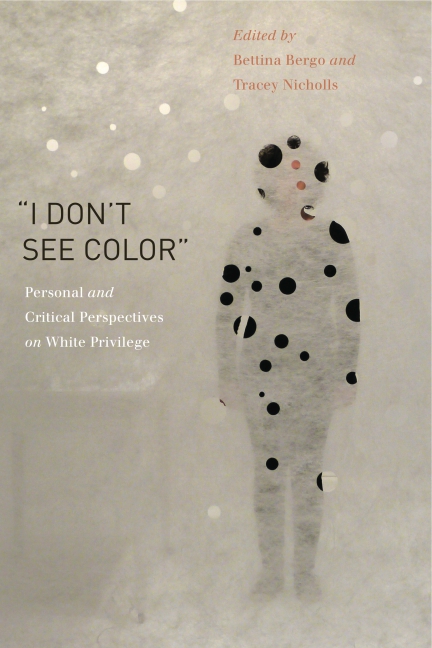 Who is white, and why should we care? There was a time when the immigrants of New York City's Lower East Side—the Irish, the Poles, the Italians, the Russian Jews—were not white, but now "they" are. There was a time when the French-speaking working classes of Quebec were told to "speak white," that is, to speak English. Whiteness is an allegorical category before it is demographic.
This volume gathers together some of the most influential scholars of privilege and marginalization in philosophy, sociology, economics, psychology, literature, and history to examine the idea of whiteness. Drawing from their diverse racial backgrounds and national origins, these scholars weave their theoretical insights into essays critically informed by personal narrative. This approach, known as "braided narrative," animates the work of award-winning author Eula Biss. Moved by Biss's fresh and incisive analysis, the editors have assembled some of the most creative voices in this dialogue, coming together across the disciplines.
Along with the editors, the contributors are Eduardo Bonilla-Silva, Nyla R. Branscombe, Drucilla Cornell, Lewis R. Gordon, Paget Henry, Ernest-Marie Mbonda, Peggy McIntosh, Mark McMorris, Marilyn Nissim-Sabat, Victor Ray, Lilia Moritz Schwarcz, Louise Seamster, Tracie L. Stewart, George Yancy, and Heidi A. Zetzer.
Table Contents
Preface / Eula Biss
Introduction / Bettina Bergo and Tracey Nicholls
Part I. What is White Privilege?

Chapter 1: Deprivileging Philosophy / Peggy McIntosh
Chapter 2: White Privilege and the Problem with Affirmative Action / Lewis R. Gordon
Chapter 3: Revisioning "White Privilege" / Marilyn Nissim-Sabat

Part II. The Images and Rhetoric of White Privilege

Chapter 4: The Very Image of Privilege: Film Creation of White Transcendentals in Vienna and Hollywood / Bettina Bergo
Chapter 5: Painting and Negotiating Colors / Lilia Moritz Schwarcz
Chapter 6: I Was an Honorary White Man: Reflections on Space, Place, and Origin / Mark McMorris

Part III. Troubling Privilege

Chapter 7: Whiteness as Insidious: On the Embedded and Opaque White Racist Self / George Yancy
Chapter 8: White Privilege: The Luxury of Undivided Attention / Heidi A. Zetzer
Chapter 9: The Costs of Privilege and Dividends of Privilege Awareness: The Social Psychology of Confronting Inequality / Tracie L. Stewart and Nyla R. Branscombe
Chapter 10: Unpacking the Imperialist Knapsack: White Privilege and Imperialism in Obama's America / Eduardo Bonilla-Silva, Victor Ray, and Louise Seamster

Part IV. Other Perspectives on White and Western Privilege

Chapter 11: Whiteness and Africana Political Economy / Paget Henry
Chapter 12: The Great White North: Failing Muslim-Canadians – Failing Us All / Tracey Nicholls
Chapter 13: Rethinking Ethical Feminism through uBuntu / Drucilla Cornell
Chapter 14: The Afrocentrist Critique of Eurocentrism: The Decolonization of Knowledge /Ernest-Marie Mbonda

Contributor Biographies
Tags:
Bettina Bergo
,
Bonilla-Silva
,
Drucilla Cornell
,
Ernest-Marie Mbonda
,
George Yancy
,
Heidi A. Zetzer
,
Lewis R. Gordon
,
Lilia Moritz Schwarcz
,
Louise Seamster
,
Marilyn Nissim-Sabat
,
Mark McMorris
,
Nyla R. Branscombe
,
Paget Henry
,
Peggy McIntosh
,
Penn State University Press
,
Pennsylvania State University Press
,
Tracey Nicholls
,
Tracie L. Stewart
,
Victor Ray