Joseph Emidy: From slave fiddler to classical violinist
BBC News
2015-06-21
Miles Davis, BBC News Online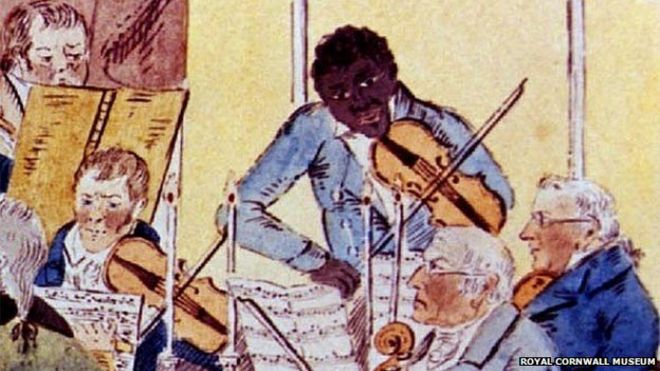 Joseph Emidy led the Truro Philharmonic Orchestra
The remarkable life of a former slave who became a pioneer of classical music has been commemorated.
The "genius" violinist Joseph Emidy, from West Africa, was enslaved for two long periods of his eventful life.
But having finally gained his freedom in 1799, Emidy became "Britain's first composer of the African diaspora".
His achievements were marked at Truro Cathedral on Sunday with the erection of a 'boss' – a painted wooden carving featuring a violin and a map of Africa.
On his death in 1835, The West Briton newspaper reported in Emidy's obituary: "As an orchestral composer, his sinfonias may be mentioned as evincing not only deep musical research, but also those flights of genius."…
…Emidy was finally discharged four years later in the port of Falmouth on 28 February 1799.
He married a local woman, Jenefer Hutchins, in 1802, started taking on music students and became involved with the the first of Truro's biennial concerts in 1804.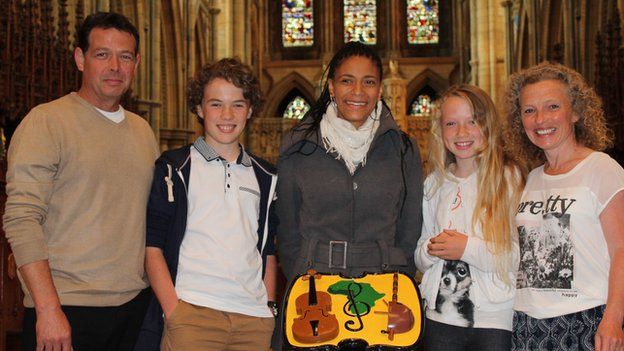 Beverley Wilson (far right) the great, great, great, great grand-daughter of Joseph Emidy met kora player Sona Jobarteh (centre)
Silk Buckingham described him as "an exquisite violinist, a good composer, who led at all the concerts of the county, and who taught equally well the piano, violin, violoncello, clarionet and flute"…
Read the entire article here.
Tags:
BBC News
,
Cornwall
,
England
,
Joseph Antonio Emidy
,
Joseph Emidy
,
Miles Davis
,
music