Preparing for Higher Education's Mixed Race Future: Why Multiraciality Matters
Palgrave Macmillan
2022-02-09
237 pages
5.83(w) x 8.27(h) x (d)
Hardcover ISBN: 9783030888206
eBook ISBN: ISBN: 978-3-030-88821-3
Edited by:
Marc P. Johnston-Guerrero, Associate Chair of the Department of Educational Studies; Associate Professor in the Higher Education and Student Affairs
Ohio State University
Lisa Delacruz Combs, Ph.D. Candidate
The Ohio State University
Victoria K. Malaney-Brown, Director of Academic Integrity
Columbia University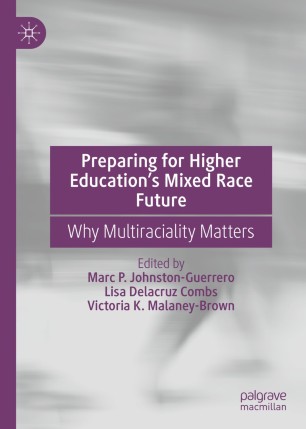 Traces a multiracial trajectory to and through higher education – from pre-college adolescents to post-tenure faculty
Complicates common constructs within higher education by examining them through a mixed race lens
Critically advances multiraciality in alignment with larger anti-racist and social justice efforts
Increasing attention and representation of multiraciality in both the scholarly literature and popular culture warrants further nuancing of what is understood about multiracial people, particularly in the changing contexts of higher education. This book offers a way of Preparing Higher Education for its Mixed Race Future by examining Why Multiraciality Matters. In preparation, the book highlights recent contributions in scholarship – both empirical studies and scholarly syntheses – on multiracial students, staff, and faculty/scholars across three separate yet interrelated parts, which will help spur the continued evolution of multiraciality into the future.
Table of Contents
Section I: Foundations of Multiracial Difference

Chapter 1. Coming of Age: Why Multiracial Adolescence Matters for Higher Education
Chapter 2. College Enrollment and Multiracial Backgrounds: An Exploration of Access and Choice
Chapter 3. Operationalizing Multiracial Consciousness: Disrupting Monoracism at a Historically White Institution

Section II: Complex Identities Nuancing Multiraciality

Chapter 4. The "Hot Ho" and the Unwanted, Colored Male: Gendered Multiracial Subjectivities Hailed through Contemporary Racial Discourse
Chapter 5. In Pursuit of a Leadership Identity: Exploring the Role of Involvement in Cultivating a Multiracial Identity at a Hispanic Serving Institution
Chapter 6. The Complexity of Black Biracial Identity within the Contexts of Peer and Student Service Interactions at a Predominately White Institution
Chapter 7. I am Black and …: Complexities of Being a Marginalized Multiracial Higher Education Professional in Times of Heightened Racial Tensions
Chapter 8. Are We Enough? Exploring Multiracial Staff Identities through the Narratives of Mixed Filipinx Americans

Section III: Nuancing Multiracial Engagement and Outcomes

Chapter 9. Sense of Belonging for Multiracial and Multiethnic College Students
Chapter 10. "Campus Feels Different to Me": Comparing Climate Experiences of White vs. Non-White Multiracial College Students
Chapter 11. Damned If You Do, Damned If You Don't: The Trials and Tribulations of Multiracial Student Activism
Chapter 12. Pedestaled or Pigeonholed? Multiracial Scholars Traversing Monoracial Academia
Chapter 13. Conclusion: What Difference Does Multiraciality Make? Reflections and Future Directions
Tags:
Blossom A. Barrett
,
Curtiss Takada Rooks
,
Jennifer Shimako Abe
,
Kevin Wright
,
Kim Misa-Escalante
,
Lisa Combs
,
Lisa Delacruz Combs
,
Marc Johnston Guerrero
,
Marc P. Johnston-Guerrero
,
Palgrave Macmillan
,
Raven Lynch
,
Victoria K. Malaney-Brown
,
Victoria Malaney-Brown