Interracial Marriage Before And After The Historic Loving Decision
WGBH News
WGBH 89.7 FM
Boston, Massachusetts
2017-06-13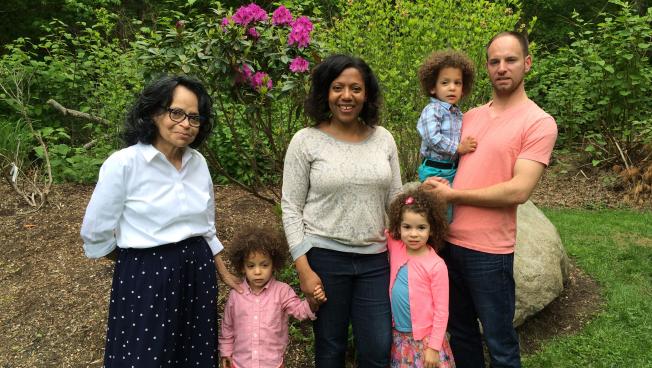 The family in the yard of their Scituate home from left to right: Pamela McCoy, Rayna's mother, Harris, Rayna, London, Miles and Dominic. Credit: Courtesy of the Mackay family.
This story is part two of a special three-part series on interracial marriage. It was produced in collaboration with the Schuster Institute for Investigative Journalism at Brandeis University.
Winston Cox and Trudy Kofford were married late on a February afternoon in 1966. She was 22-years-old, a green-eyed dreamer fresh from the hills of Oregon. He was 29, an ambitious doctoral candidate from Jamaica, with a wiry build.
Trudy, who is white, wore a wool dress with a rounded straw hat in honor of her mother, one of a tiny number of family members present for the couple that day. Her father had vowed to disown her if she married Cox, a black man. Minutes before the ceremony began, Trudy's mother leaned over and whispered in Winston's ear.
"The mother, she said, 'Listen, if her daddy ever sees you he'll kill you,'" Winston recalled. "She was very angry when she met me."
Such opposition to interracial marriage was not uncommon back when Winston and Trudy took the bold step of marrying across racial lines, one year before the landmark U.S. Supreme Court decision — Loving v. Virginia — that struck down state laws prohibiting interracial marriage. Fifty years later, some things have decidedly changed while others have definitely not…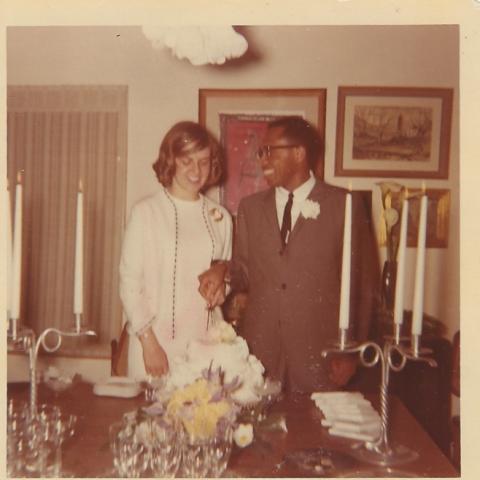 Winston Cox and Trudy Kofford on their wedding day, Feb. 4, 1966, in San Luis Obispo, CA.
Photo Credit: Courtesy
…Although Trudy has some Native-American blood, she had never met a black person growing up in Joseph, Oregon. In a way, Winston was just as naïve. He had grown up in Jamaica at a time of political upheaval, but had little racial awareness. There just weren't many white people around during his childhood.
Still, though, they got married in 1966, one year before the Loving court decision would strike down laws nationwide prohibiting marriage between races. The ceremony was held in a mission in San Luis Obispo, California, where Winston had attended college. (California legalized interracial marriage in 1948.) Although they had many differences stemming from their upbringing, they shared a passion for social justice.
"We were Communists together," said Trudy. "We were political. We studied Mao, and the Chinese Revolution."
So much so, that when they had their second child in 1970 they called her Fanshen. It's a Chinese word that means turning over. But it didn't take long for race to come between them. By the time Fanshen was born, Winston had been kicked out of restaurants, barred from bathrooms and humiliated. As the politics of the decade grew more extreme, he grew an Afro and turned to the Black Panthers…
Tags:
Dominic Mackay
,
Fanshen Cox
,
Fanshen Cox Digiovanni
,
Loving v. Virginia
,
Rayna Clay
,
Sally Jacobs
,
Schuster Institute for Investigative Journalism
,
Trudy Kofford
,
WGBH 89.7 FM
,
WGBH News
,
Winston Cox