The New Republic
2018-05-30
Jillian Steinhauer
New York, New York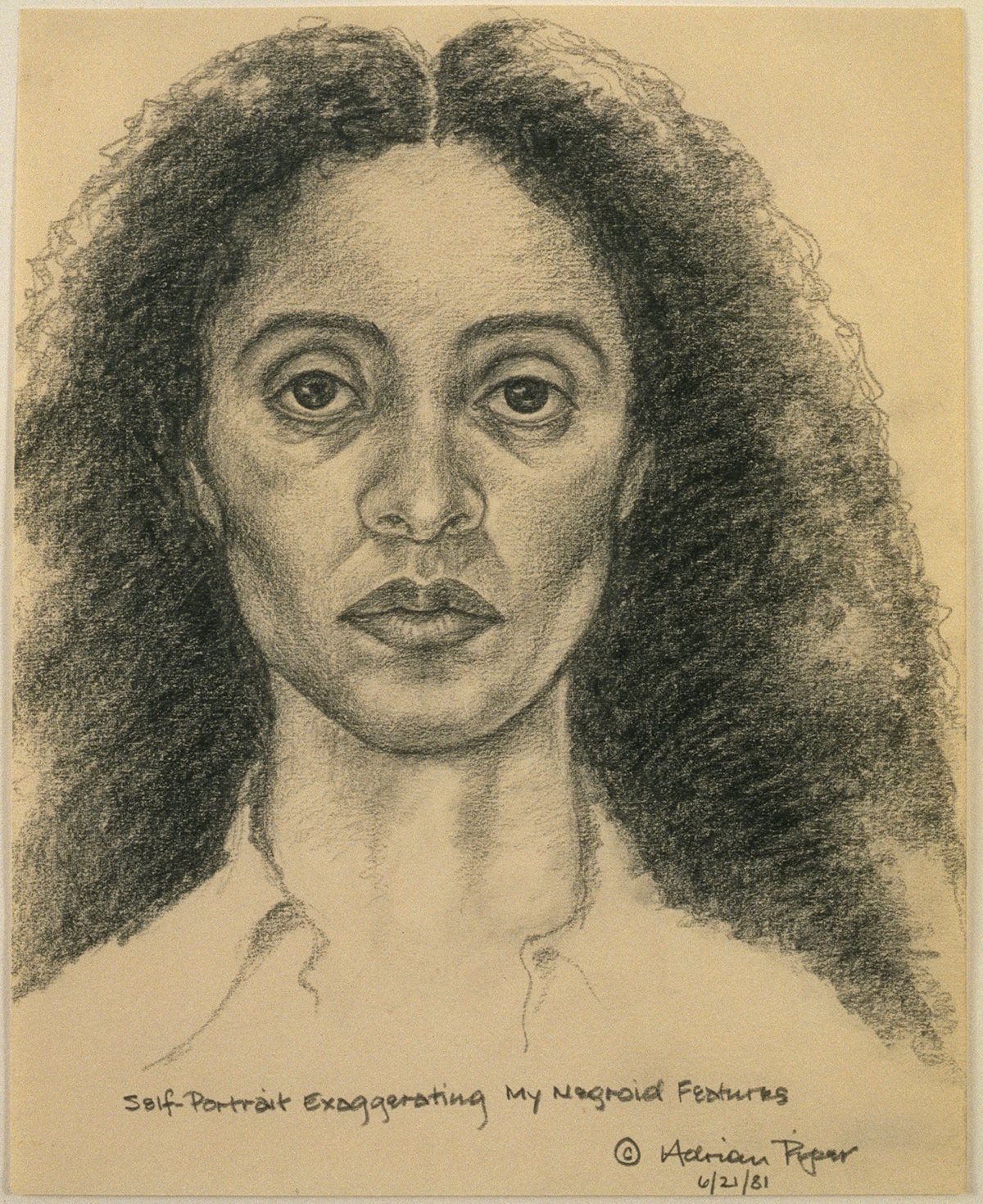 Self-Portrait Exaggerating My Negroid Features, 1981. Courtesy of The Eileen Harris Norton Collection/MOMA
Adrian Piper's art plays with identity and confronts defensiveness.
In 2012, the artist Adrian Piper made an announcement. The news was posted on her archive's web site, with a cheerful portrait of her, head tilted, eyes warm and open, smiling. The photo would look like an ordinary head shot if it were not for the unnatural coloring—Piper's hairline is orange, and her skin is an eggplant shade of purple. At the bottom, she included a note:
Dear Friends,

For my 64th birthday, I have decided to change my racial and nationality designations. Henceforth, my new racial designation will be neither black nor white but rather 6.25% grey, honoring my 1/16th African heritage. And my new nationality designation will be not African American but rather Anglo-German American, reflecting my preponderantly English and German ancestry. Please join me in celebrating this exciting new adventure in pointless administrative precision and futile institutional control!
She signed and dated it below.
On first reading, this announcement—which as an artwork is titled Thwarted Projects, Dashed Hopes, A Moment of Embarrassment—appears absurd: A person can't retire their official identity and endow themselves with a new one simply by writing a note; Piper points to the futility of such an endeavor in her last line. But, like so much of her work, Thwarted Projects throws a challenge to the viewer: What new and liberating possibilities might appear if we took this conceptual exercise seriously?…
Read the entire article here.
Tags:
Adrian Piper
,
Jillian Steinhauer
,
The New Republic