Do you identify as Biracial or Multiracial? Are you 18 years old or older? Do you currently live in the United States?
Yale BIS Research Team
Yale School of Public Health
Yale University
2022-08-24
Skyler Jackson, Associate Research Scientist
Yale School of Medicine, New Haven, Connecticut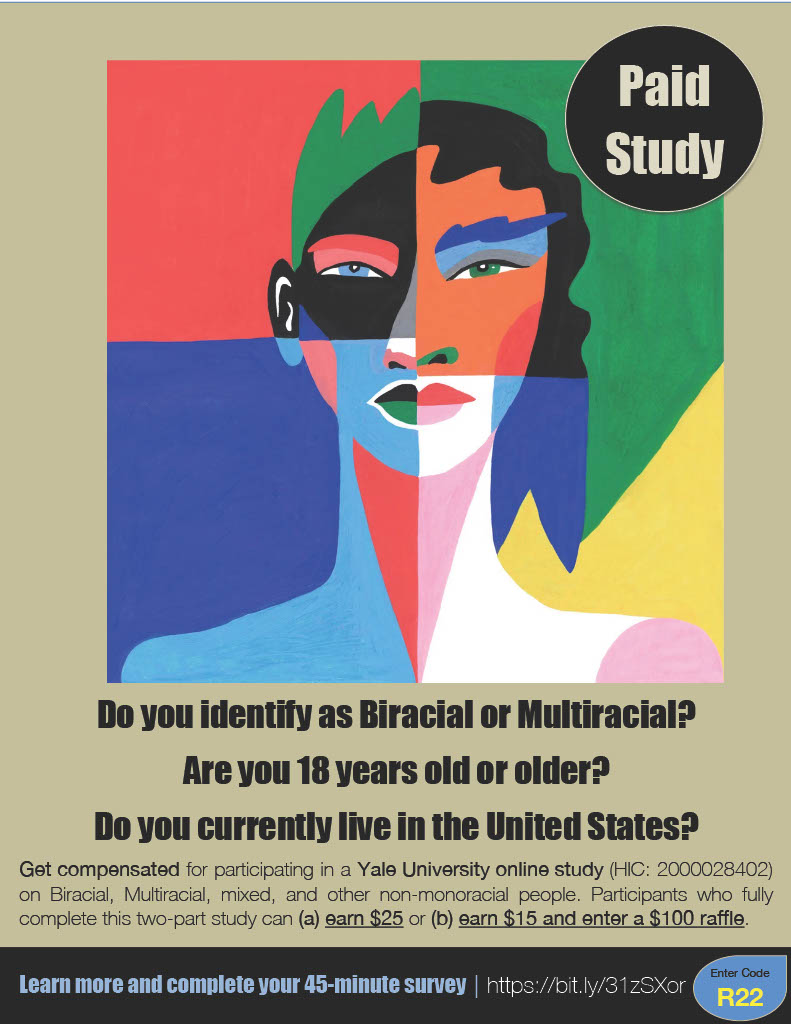 We are a team of researchers at Yale University who are interested in the experiences of individuals who identify as Biracial and Multiracial. Such individuals face unique challenges and the current research in this area is limited and needs greater representation.
We are currently conducting a two-part online study that addresses an important but little explored question: What are the unique experiences of Biracial and Multiracial individuals? If you choose to participate, your responses to this survey will contribute to knowledge about this underdeveloped area of research.
To participate in this study, you must (a) be 18 years of age or older, and (b) reside within the United States, and (c) identify as Biracial or Multiracial.
Participants are expected to complete two study phases.
Phase 1 is a single online survey, which takes most people between 30-60 minutes to complete. At the end of this survey, you can choose to either (a) receive $10 for your participation or (b) enter a $100 (USD) raffle.
Phase 2 involves completing a short 10-minute study every evening for one week. You will earn up to $15 for completing this weeklong study component ($1 per survey for surveys 1-5 and $5 per survey for surveys 6 and 7).
Check out the attached flyer. To learn more and take an eligibility survey, use the following link and code (or "cut and paste" the link into your preferred Internet browser): https://bit.ly/31zSXor and code R22.
We appreciate you considering participating in this study. As you may imagine, Biracial and Multiracial individuals can be difficult to reach and recruit for research studies. By participating (and forwarding this email on to other groups and individuals), you will be helping to contribute to the body of accurate knowledge about the lives of Biracial and Multiracial individuals.
This study has been approved by the Yale University Institutional Review Board (HIC: 2000028402). If you have questions or concerns about participating, feel free to email our research team at yale.bis.study@gmail.com.
Tags:
Skyler Jackson
,
Yale University