| | |
| --- | --- |
| | |
Miscegenation: the theory of the blending of the races, applied to the American white man and negro.
H. Dexter, Hamilton & Co.
1864
76 pages
Source: Wilson Anti-Slavery Collection of The University of Manchester, The John Rylands University Library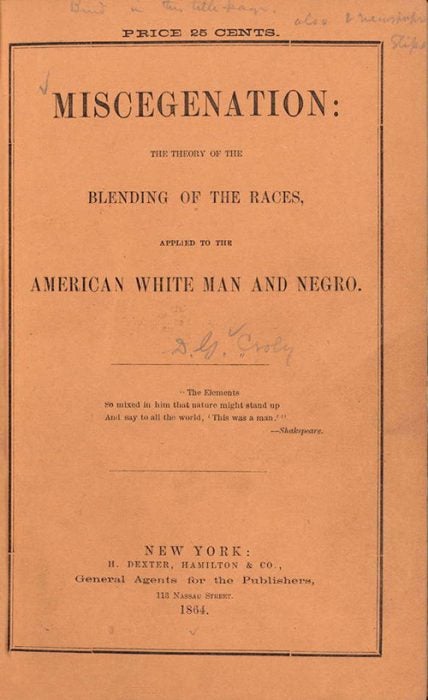 The Wilson Anti-Slavery Collection is a collection of 19th-century anti-slavery pamphlets received in 1923 from the executors of Henry Joseph Wilson (1833-1914), the distinguished Liberal Member of Parliament for Sheffield. The collection is of particular importance for the study of the activities of the provincial philanthropic societies, such as the Birmingham and Midland Freedmen's Aid Association, the Birmingham and West Bromwich Ladies' Negro's Friend Society, the Glasgow Emancipation Society, the Manchester Union and Emancipation Society, and the Sheffield Ladies Female Anti Slavery Society. Of interest is the prominent role of women in the movement, who formed themselves into societies which lobbied MPs and printed pamphlets on the conditions of slaves. Here we have details of what was sold at their bazaars to raise funds and lists of names of subscribers, the minutiae which bring alive the history of the movement.
Note from Steven F. Riley: This pamphlet coined the term "miscegenation."
Read the pamphlet here.
Tags:
David Croly
,
David Goodman Croly
,
Henry Joseph Wilson
,
miscegenation
,
Wilson Anti-Slavery Collection