| | |
| --- | --- |
| | |
Racism in a Racial Democracy: The Maintenance of White Supremacy in Brazil
Rutgers University Press
1997-10-01
192 pages
20 b & w photos
Cloth ISBN: 978-0-8135-2364-4
Paperback ISBN: 978-0-8135-2365-1
France Winddance Twine, Professor of Sociology
University of California, Santa Barbara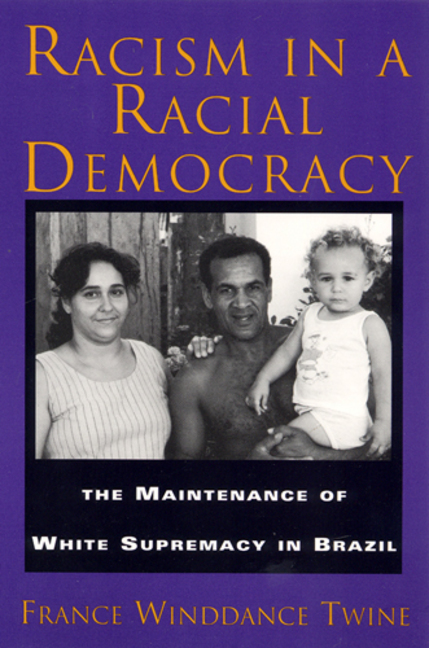 This groundbreaking ethnographic study analyzes everyday practices that leave intact the myth that Brazil is a racial democracy.
In Racism in a Racial Democracy, France Winddance Twine asks why Brazilians, particularly Afro-Brazilians, continue to have faith in Brazil's "racial democracy" in the face of pervasive racism in all spheres of Brazilian life. Through a detailed ethnography, Twine provides a cultural analysis of the everyday discursive and material practices that sustain and naturalize white supremacy.
This is the first ethnographic study of racism in southeastern Brazil to place the practices of upwardly mobile Afro-Brazilians at the center of analysis. Based on extensive field research and more than fifty life histories with Afro- and Euro-Brazilians, this book analyzes how Brazilians conceptualize and respond to racial disparities. Twine illuminates the obstacles Brazilian activists face when attempting to generate grassroots support for an antiracist movement among the majority of working class Brazilians. Anyone interested in racism and antiracism in Latin America will find this book compelling.
Table of Contents
List of Illustrations and Tables
Acknowledgments
1. Introduction
2. Vasalia: The Research Site
3. Mapping the Ideological Terrain of Racism: The Social, Sexual, Socioeconomic, and Semiotic Contours
4. Discourses in Defense of the Racial Democracy
5. Embranquecimento: Aesthetic Ideals and Resistance to Mestiçagem
6. Memory: White Inflation and Willful Forgetting
7. Strategic Responses to Racism: Preserving White Supremacy
Appendix A: Interview Schedule
Appendix B: Biographical Data on Interviewees
Notes
Glossary
Bibliography
Index
Tags:
France Winddance Twine
,
Rutgers University Press