| | |
| --- | --- |
| | |
Mixed Race Amnesia: Resisting the Romanticization of Multiraciality
University of British Columbia Press
2014-10-21
288 pages
6 x 9″
Hardcover ISBN: 978-0-7748-2772-0
Library E-Book: ISBN: 978-0-7748-2774-4
Minelle Mahtani, Associate Professor in the Department of Gender, Race and Social Justice
University of British Columbia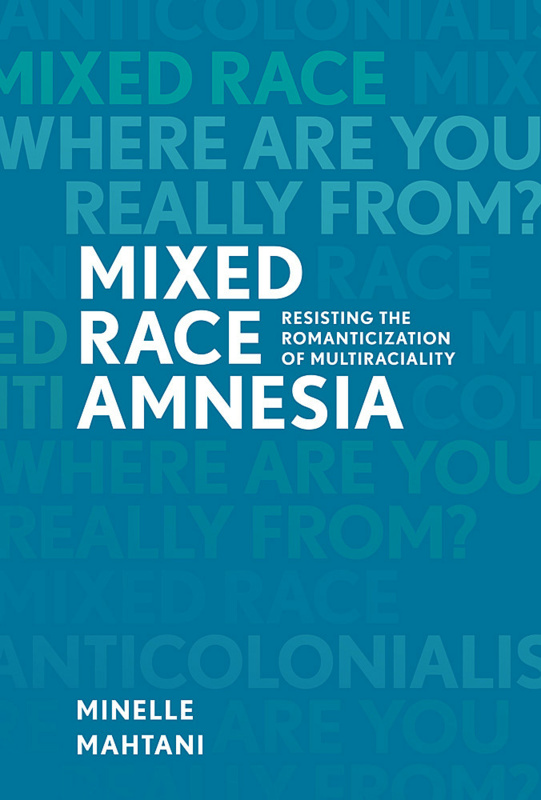 Mixed Race Amnesia is an ambitious and critical look at how multiraciality is experienced in the global north. Drawing on a series of interviews she conducted with twenty-four women of mixed race, acclaimed geographer Minelle Mahtani explores some of the assumptions and attitudes people have around multiraciality.
She discovers that, in Canada at least, people of mixed race are often romanticized as being the embodiment of a progressive, post-racial future—an ideal that is supported by government policy and often internalized by people of mixed race themselves. As Mahtani reveals, this superficial celebration of multiraciality is often done without any acknowledgment of the freight and legacy of historical racisms. Consequently, a strategic and collective amnesia is taking place—one where complex diasporic and family histories are being lost while Canada's colonial legacy is being reinforced.
While noting that our "analytical vocabulary for describing the experience of multiraciality is not yet up to the task of telling a more complex story about whiteness, race, diasporic mobility, and grids of racial intelligibility in a white-settler society within what is understood as a multicultural liberal democracy," Mahtani nevertheless undertakes to give us the tools we need to do this. The result is a book that takes critical race studies in new and exciting directions.
Table of Contents
Introduction: Disentangling Our Curious Affection with Mutiraciality
1. Mixed Race Mythologies: Toward an Anticolonial Mixed Race Studies
2. Mixed Race Narcissism? Thoughts on the Interview Experience
3. The Model Multiracial: Propping Up Canadian Multiculturalism through Racial Impotency
4. Beyond the Passing Narrative: Multiracial Whiteness
5. Mongrels, Interpreters, Ambassadors, and Bridges? Mapping Liberal Affinities among Mixed Race Women
6. Mixed Race Scanners: Performing Race
7. Present Tense: The Future of Critical Mixed Race Studies
References
Index
Tags:
Minelle Mahtani
,
University of British Columbia Press