| | |
| --- | --- |
| | |
Who Is Black? One Nation's Definition
Penn State Press
2001 (Originally published in 1992)
232 pages
6 x 9
ISBN 978-0-271-02172-0
F. James Davis, Professor Emeritus of Sociology
Illinois State University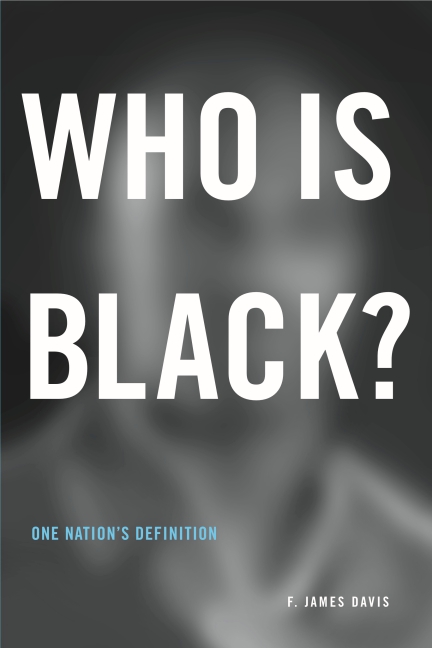 Winner of the 1992 Outstanding Book on the Subject of Human Rights from the Gustavus Myers Center for the Study of Human Rights in the United States.
Tenth Anniversary Edition
Reprinted many times since its first publication in 1991, Who Is Black? has become a staple in college classrooms throughout the United States, helping students understand this nation's history of miscegenation and the role that the "one-drop rule" has played in it. In this special anniversary edition, the author brings the story up to date in an epilogue. There he highlights some revealing responses to Who Is Black? and examines recent challenges to the one-drop rule, including the multiracial identity movement and a significant change in the census classification of racial and ethnic groups.
Table of Contents
PREFACE
CHAPTER ONE: THE NATION'S RULE

The One-Drop Rule Defined
Black Leaders, But Predominantly White
Plessy, Phipps, and Other Challenges in Courts
Census Enumeration of Blacks
Uniqueness of the One-Drop Rule

CHAPTER TWO: MISCEGENATION AND BELIEFS

Racial Classification and Miscegenation
Racist Beliefs About Miscegenation
The Judge Brady Paradox
Miscegenation in Africa and Europe
Race vs. Beliefs About Race

CHAPTER THREE: CONFLICTING RULES

Early Miscegenation in the Upper South: The Rule Emerges
South Carolina and Louisiana: A Different Rule
Miscegenation on Black Belt Plantations
Reconstruction and the One-Drop Rule
The Status of Free Mulattoes, North and South
The Emergence and Spread of the One-Drop Rule

CHAPTER FOUR: THE RULE BECOMES FIRM

Creation of the Jim Crow System
The One-Drop Rule Under Jim Crow
Effects of the Black Renaissance of the 1920s
The Rule and Myrdal's Rank Order of Discriminations
Sexual Norms and the Rule: Jim Crow vs. Apartheid
Effects of The Fall of Jim Crow
De Facto Segregation and Miscegenation
Miscegenation Since the 1960s
Development of the One-Drop Rule in the Twentieth Century

CHAPTER FIVE: OTHER PLACES, OTHER DEFINITIONS

Racial Hybrid Status Lower Than Both Parents Groups
Status Higher Than Either Parent Group
In-Between Status: South Africa and Others
Highly Variable Class Status: Latin America
Two Variants in the Caribbean
Equality for the Racially Mixed in Hawaii
Same Status as the Subordinate Group: The One-Drop Rule
Status of an Assimilating Minority
Contrasting Socially Constructed Rules

CHAPTER SIX: BLACK ACCEPTANCE OF THE RULE

Alex Haley, Lillian Smith, and Others
Transracial Adoptions and the One-Drop Rule
Rejecton of the Rule: Garvey, American Indians, and Others
Black Acceptance: Reasons and Implications

CHAPTER SEVEN: AMBIGUITIES, STRAINS, CONFLICTS, AND TRAUMAS

The Death of Walter White's Father and Other Traumas
Collective Anxieties About Racial Identity: Some Cases
Personal Identity: Seven Modes of Adjustment
Lena Home's Struggles with Her Racial Identity
Problems of Administering the One-Drop Rule
Misperceptions of the Racial Identity of South Asians, Arabs, and Others
Sampling Errors in Studying American Blacks
Blockage of Full Assimilation of Blacks
Costs of the One-Drop Rule

CHAPTER EIGHT: ISSUES AND PROSPECTS

A Massive Distortion? A Monstrous Myth?
Clues for Change in Deviations from the Rule
Clues for Change in Costs of the Rule
Possible Direction: Which Alternative?
Prospects for the Future

EPILOGUE TO THE TENTH ANNIVERSARY
EDITION
WORKS CITED
INDEX
Tags:
F. James Davis
,
one-drop rule
,
Penn State Press
,
Pennsylvania State University Press