| | |
| --- | --- |
| | |
The untold story of Britain's first black school teacher
BBC News
2022-04-28
Giancarlo Rinaldi, South Scotland Reporter
BBC Scotland News Website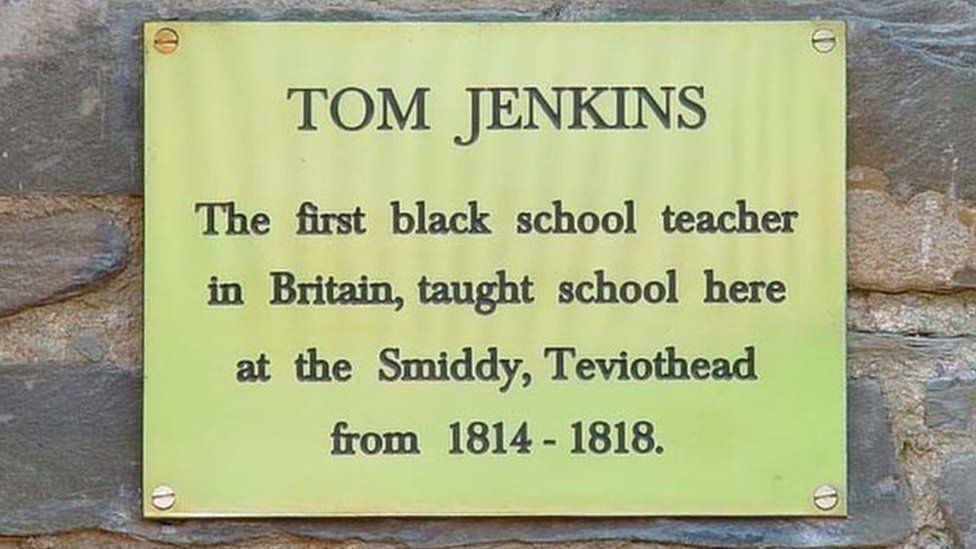 A small plaque marks the spot where the man believed to be Britain's first black school teacher educated children in a Scottish village.
Now the story of Tom Jenkins' life is being explored as part of the area's Alchemy Festival, and there are calls for him to receive greater recognition.
Jenkins educated dozens of children between 1814 and 1818 at Teviothead, near Hawick, in the Scottish Borders.
Artist Dr Jade Montserrat has been investigating the links between Hawick and both Jenkins and anti-slavery campaigner Frederick Douglass, who visited the town in 1846.
"I focused in on the significant black presence in Hawick and, more loosely, Hawick's liberal abolitionist identity as a town," she said…
…When he was six years old his father, a slave trading chief, handed him to Capt James Swanson.
The son of a waiter from Hawick, Capt Swanson was in command of the slave ship Prudence.
The intention was that Tom Jenkins would be educated in Britain before returning to West Africa…
Read the entire article here.
Tags:
BBC News
,
Black Tom
,
Frederick Douglass
,
Giancarlo Rinaldi
,
Jade Montserrat
,
Scotland
,
Scottish Borders
,
Teviothead
,
Thomas Joseph Jenkins
,
Tom Jenkins