| | |
| --- | --- |
| | |
Mixed Messages: Multiracial Identities in the "Color-Blind" Era
Lynne Rienner Publishers
2006
405 pages
Hardcover: ISBN: 978-1-58826-372-8
Paperback: ISBN: 978-1-58826-398-8
Edited by David L. Brunsma, Professor of Sociology
Virginia Polytechnic Institute and State University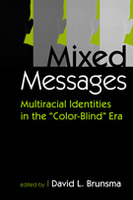 The experiences and voices of multiracial individuals are challenging current categories of race, profoundly altering the meaning of racial identity and in the process changing the cultural fabric of the nation. Exploring this new reality, the authors of Mixed Messages examine what we know about multiracial identities—and the implications of those identities for fundamental issues of justice and equality.
Read the entire introduction here.
Table of Contents
Mixed Messages: Doing Race in the Color-Blind Era—David L. Brunsma
SHIFTING COLOR LINES.

Defining Race: Comparative Perspectives—F. James Davis.
Black, Honorary White, White: The Future of Race in the United States?—Eduardo Bonilla-Silva and David G. Embrick.
Racial Justice in a Black/Nonblack Society—George Yancey.
Carving Out a Middle Ground: The Case of Hawai'i—Jeffrey Moniz and Paul Spickard.
New Racial Identities, Old Arguments: Continuing Biological Reification—Rainier Spencer.
Color Blindness: An Obstacle to Racial Justice?—Charles A. Gallagher.
Racism, Whitespace, and the Rise of the Neo-Mulattos—Hayward Derrick Horton.

MANIPULATING MULTIRACIAL IDENTITIES.

Race, Multiraciality, and the Neoconservative Agenda—G. Reginald Daniel and Josef Manuel Castañeda-Liles.
White Separatists in the Color-Blind Era: Redefining Multiracial and White Identities—Abby L. Ferber.
Defining Racism to Achieve Goals: The Multiracial and Black Reparations Movements—Johanna E. Foster.
Selling Mixedness: Marketing with Multiracial Identities—Kimberly McClain DaCosta.

SOCIALIZATION IN MULTIRACIAL FAMILIES.
DILEMMAS OF MULTIRACIAL IDENTITY.

Negotiating Racial Identity in Social Interactions—R. L'Heureux Lewis and Kanika Bell.
Black/White Friendships in a Color-Blind Society—Kathleen Korgen and Eileen O'Brien.
Black and Latino: Dominican Americans Negotiate Racial Worlds—Benjamin Bailey.
Finding a Home: Housing the Color Line—Heather Dalmage.
Confronting Racism in the Therapist's Office—Kwame Owusu-Bempah.
Culture and Identity in Mixed-Race Women's Lives—Debbie Storrs.
Tags:
Abby L. Ferber
,
Benjamin Bailey
,
David Brunsma
,
David G. Embrick
,
David L. Brunsma
,
Debbie Storrs
,
Eduardo Bonilla-Silva
,
Eileen O'Brien
,
Erica Chito Childs
,
F. James Davis
,
G. Reginald Daniel
,
George Yancey
,
Heather Dalmage
,
Jeffrey Moniz
,
Johanna E. Foster
,
Josef Manuel Castañeda-Liles
,
Julia Noveske
,
Kanika Bell
,
Kathleen Korgen
,
Kerry Ann Rockquemore
,
Kimberly McClain DaCosta
,
Kwame Owusu-Bempah
,
Lynne Rienner Publishers
,
Paul R. Spickard
,
Paul Spickard
,
R. L'Heureux Lewis
,
Rainier Spencer
,
Tracey Laszloffy