| | |
| --- | --- |
| | |
Becoming Mexipino: Multiethnic Identities and Communities in San Diego
Rutgers University Press
June 2012
256 pages
Hardcover ISBN-13: 9780813552835, ISBN: 0813552834
Paperback ISBN-13: 9780813552842, ISBN: 0813552842
Rudy P. Guevarra, Jr., Associate Professor, Asian Pacific American Studies, School of Social Transformation, College of Liberal Arts and Sciences
Arizona State University, Tempe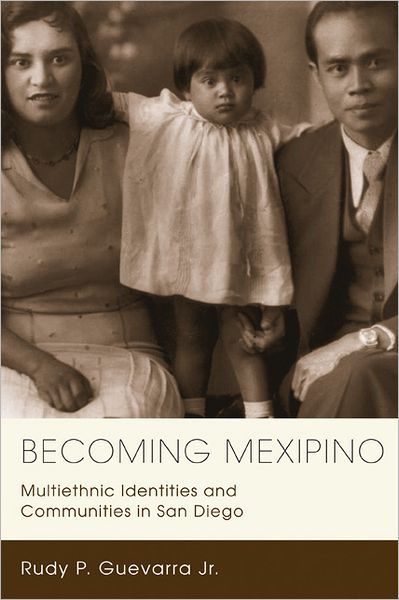 Becoming Mexipino is a social-historical interpretation of two ethnic groups, one Mexican, the other Filipino, whose paths led both groups to San Diego, California. Rudy Guevarra traces the earliest interactions of both groups with Spanish colonialism to illustrate how these historical ties and cultural bonds laid the foundation for what would become close interethnic relationships and communities in twentieth-century San Diego as well as in other locales throughout California and the Pacific West Coast.
Through racially restrictive covenants and other forms of discrimination, both groups, regardless of their differences, were confined to segregated living spaces along with African Americans, other Asian groups, and a few European immigrant clusters. Within these urban multiracial spaces, Mexicans and Filipinos coalesced to build a world of their own through family and kin networks, shared cultural practices, social organizations, and music and other forms of entertainment. They occupied the same living spaces, attended the same Catholic churches, and worked together creating labor cultures that reinforced their ties, often fostering marriages. Mexipino children, living simultaneously in two cultures, have forged a new identity for themselves. Their lives are the lens through which these two communities are examined, revealing the ways in which Mexicans and Filipinos interacted over generations to produce this distinct and instructive multiethnic experience. Using archival sources, oral histories, newspapers, and personal collections and photographs, Guevarra defines the niche that this particular group carved out for itself.
Tags:
California
,
Rudy Guevarra
,
Rudy Guevarra Jr.
,
Rudy P. Guevarra
,
Rudy P. Guevarra Jr.
,
Rutgers University Press
,
San Diego