The Paper Bag Principle: Class, Colorism, and Rumor and the Case of Black Washington, D.C.
University of Tennessee Press
2006-07-15
136 pages
9.2 x 6.3 x 0.7 inches
Cloth ISBN: 1-57233-462-2
Cloth ISBN-13: 978-1572334625
Audrey Elisa Kerr, Professor of English and Women Studies
Southern Connecticut State University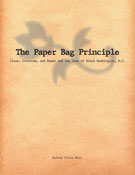 The Paper Bag Principle: Class, Colorism, and Rumor in the Case of Black Washington, D.C. considers the function of oral history in shaping community dynamics among African American residents of the nation's capitol. The only attempt to document rumor and legends relating to complexion in black communities, The Paper Bag Principle looks at the divide that has existed between the black elite and the black "folk."
While a few studies have dealt with complexion consciousness in black communities, there has, to date, been no study that has catalogued how the belief systems of members of a black community have influenced the shaping of its institutions, organizations, and neighborhoods. Audrey Kerr examines how these folk beliefs—exemplified by the infamous "paper bag tests"—inform color discrimination intraracially.
Kerr argues that proximity to whiteness (in hue) and wealth have helped create two black Washingtons and that the black community, at various times in history, replicated "Jim Crowism" internally to create some standard of exceptionalism in education and social organization. Kerr further contends that within the nomenclature of African Americans, folklore represents a complex negotiation of racism written in ritual, legend, myth, folk poetry, and folk song that captures "boundary building" within African American communities.
The Paper Bag Principle focuses on three objectives: to record lore related to the "paper bag principle" (the set of attitudes that granted blacks with light skin higher status in black communities); to investigate the impact that this "principle" has had on the development of black community consciousness; and to link this material to power that results from proximity to whiteness. The Paper Bag Principle is sure to appeal to scholars and historians interested in African American studies, cultural studies, oral history, folklore, and ethnic and urban studies.
Table of Contents
Acknowledgments
Introduction
1. Traditions and Complexion Lore
2. A National Perspective on Complextion Lore
4. Social Organization in Washington
5. School Lore: Beliefe and Practice in the Education of Black Washington
6. Complexion and Worship
7. One Drop of Black Blood, a Conclusion
Notes
Bibliography
Index
Tags:
Audrey E. Kerr
,
Audrey Elisa Kerr
,
Audrey Kerr
,
colorism
,
University of Tennessee Press
,
Washington DC