Researchers seek fuller picture of first Africans in America
The Associated Press
2019-02-07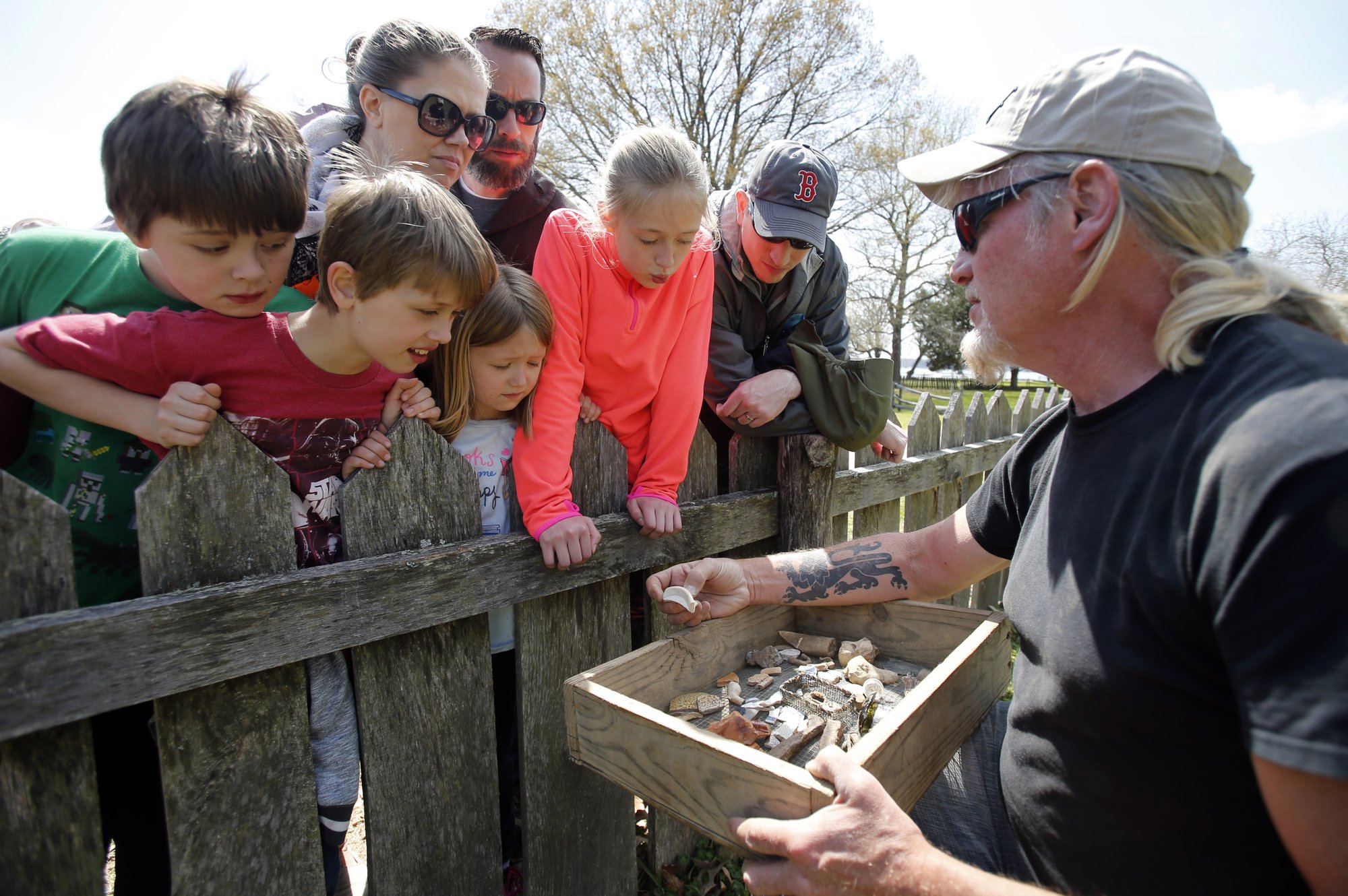 FILE – In this April 10, 2018, file photo, Historic Jamestowne staff archaeologist Lee McBee, right, shows artifacts to Carla Howe, of Gilmanton, N.H., left, and her children Caroline, second from left, and Grace, third from left, at the dig site of the Angelo slave house in Jamestown, Va. The first Africans to arrive in North America were so little noted by history that many are known today by only their first names. (AP Photo/Steve Helber)
WASHINGTON (AP) — The first Africans to arrive in English-controlled North America were so little noted by history that many are known today by only their first names: Antony and Isabella, Angelo, Frances and Peter.
Almost 400 years ago, they were kidnapped and forcibly sailed across the ocean aboard three slave ships — the San Juan Bautista, the White Lion and the Treasurer — and then sold into bondage in Virginia.
Now their descendants, along with historians and genealogists, are seeking recognition for a group of 20-some Africans they describe as critical to the survival of Jamestown, England's first successful settlement in North America.
"We need to reclaim our history. We need to tell our story," said Calvin Pearson, head of Project 1619 , which is named after the year those first Africans landed near what became Hampton, Virginia…
A few historical markers and records mention these early slaves, but there's been scant research on their lives. President Barack Obama made the area where they arrived a national monument in 2011 to ensure that its history was not lost, and Pearson and others are working to learn more.
Before the slaves arrived, Jamestown was starving. "Basically all of those people were right off of the streets in England," said Kathryn Knight, who in May will release a book titled "Unveiled – The Twenty & Odd: Documenting the First Africans in England's America 1619-1625 and Beyond."…
…Although sold into servitude, many of those original Angolans fared better than the millions of African slaves who came to North America later, said John Thorton, a Boston University professor of African American studies and history.
"They had a better chance at a better future than almost anybody who followed them because they were the first," Thorton said. "A lot of them ended up owning property, and they ended up owning slaves of their own."
By intermingling with the English colonists, some had children who ended up passing for white and merging into early colonial society, Thorton said…
Read the entire article here.
Tags:
Angola
,
Associated Press
,
Calvin Pearson
,
England
,
Jamestown
,
Jesse J. Holland
,
John Thorton
,
Kathryn Knight
,
Mark Summers
,
Project 1619
,
Ric Murphy
,
The Associated Press