Black History Month 2016: Three-star General, Lt. General Nadja West
Black German Cultural Society
2016-02-05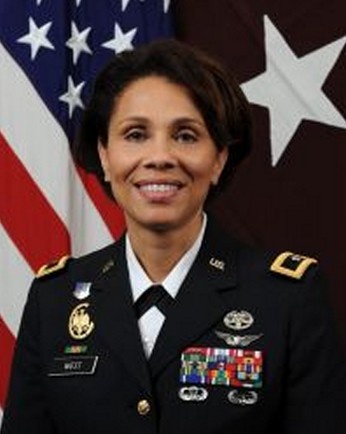 Congratulations!!!
Lt. Gen. Nadja West has been appointed as the Army's 44th Surgeon General. With this appointment comes a promotion to lieutenant general, which makes West the Army's first black female 3-star general as well as the highest ranking female of any race to graduate from West Point.
West started as a child in Germany five decades ago. She came into the world a mischlingskinder or "brown baby"—one of many children borne of liaisons between African American servicemen and German women. Orphaned as a baby, she was adopted at nine months by Oscar and Mabel Grammer. Oscar Grammer worked as a chief warrant officer in the U.S. Army. Mabel Grammer was a civil rights activist and journalist who, at one point, wrote for the Afro American Newspapers. Together the couple adopted 12 children; West was the youngest.
On Tuesday, February 9 (2016), Lt. Gen Nadja West will be honored in an official ceremony…
Read the entire article here.
Tags:
Black German Cultural Society
,
Germany
,
Mabel Grammer
,
Nadja West
,
Nadja Y. West
,
Oscar Grammer
,
United States Army