My family had never seen a Kenyan: The Chinese making a new life in Africa
BBC News
2018-05-10
Rajeev Gupta
BBC World Service, Nairobi, Kenya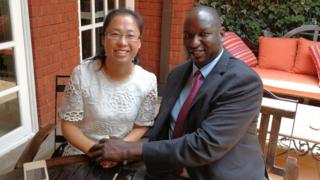 Xu Jing and Henry Rotich fell in love a decade ago
"We fell in love but it was very difficult at first," Xu Jing explains from the courtyard of the Fairmont Hotel in Nairobi.
"My family didn't know much about Africa at all. They hadn't even seen a Kenyan before so they were very worried."
Henry Rotich – the Kenyan in question – was just as concerned.
The pair had fallen for each other after Henry was sent to China to learn Mandarin as part of his government job.
It took him many weeks to get his language skills good enough to meet Jing's father over a nerve-filled lunch, at which he asked for his blessing.
"Her father didn't say much so I was really worried about what he was thinking, whether or not he even liked the food we were serving him," Henry recalls.
Apparently his mastery of Mandarin was enough: a decade later, the couple are living in the Kenyan capital, proud parents to two children.
Jing now teaches Mandarin at the Confucius Institute based at the University of Nairobi, one of an estimated 10,000 Chinese nationals who have moved to the East African state.
Their family provides one snapshot of the growing links between Chinese and Kenyans – propelled somewhat by China's massive investment in the country…
Read the entire article here.
Tags:
BBC News
,
China
,
Henry Rotich
,
Kenya
,
Rajeev Gupta
,
Xu Jing