JSTOR Daily
2019-02-20
Mark Sussman, Adjunct Professor of English
Hunter College, City University of New York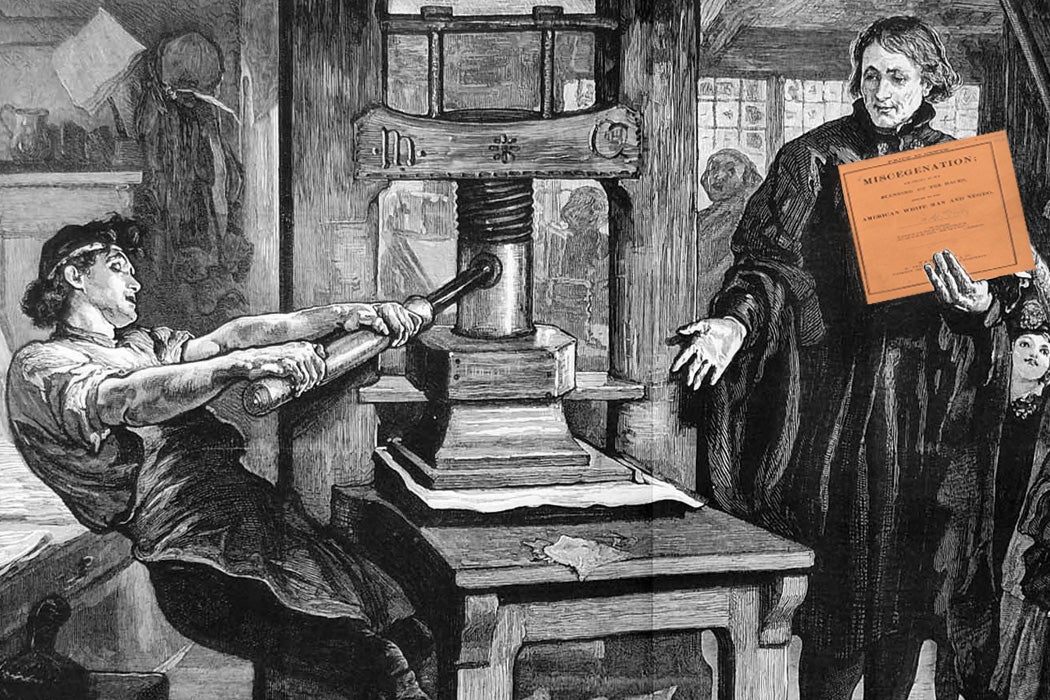 The term "miscegenation" was coined in an 1864 pamphlet by an anonymous author.
In 1864, a pamphlet entitled "Miscegenation: The Theory of the Blending of the Races, Applied to the American White Man and Negro" began to circulate on the streets of New York. The title certainly would have given New Yorkers pause. No one had ever seen the word "miscegenation" before. In fact, the pamphlet's anonymous author invented it, giving the reason that "amalgamation"—then the most common term used to describe "race mixing"—was a "poor word, since it properly refers to the union of metals with quicksilver." The term "miscegenation"—from the Latin miscere (to mix) and genus (race)—had only one definition.
Besides introducing a new word into the English language, the pamphleteer was also responsible for what appeared to be one of the most fearless documents in the archive of nineteenth century abolitionist writing. Among many other claims and political recommendations, the pamphlet notes that, "the miscegenetic or mixed races are much superior, mentally, physically, and morally, to those pure or unmixed;" that "a continuance of progress can only be obtained through a judicious crossing of diverse elements;" that "the Caucasian, or white race… has never yet developed a religious faith on its own;" that "the true ideal man can only be reached by blending the type man and woman of all the races of the earth;" that "the most beautiful girl in form, feature, and every attribute of feminine loveliness [the pamphleteer] ever saw, was a mulatto." Most provocatively, the writer claimed that "the Southern beauty… proclaims by every massive ornament in her shining hair, and by every yellow shade in the wavy folds of her dress, 'I love the black man.'"…
Read the entire article here.
Tags:
JSTOR Daily
,
Mark Sussman
,
New York
,
New York City