Crown (an imprint of Penguin Random House)
2023-06-06
240 pages
Hardcover ISBN: 9780593443019
Ebook ISBN: 9780593443026
Audiobook ISBN: 9780593740880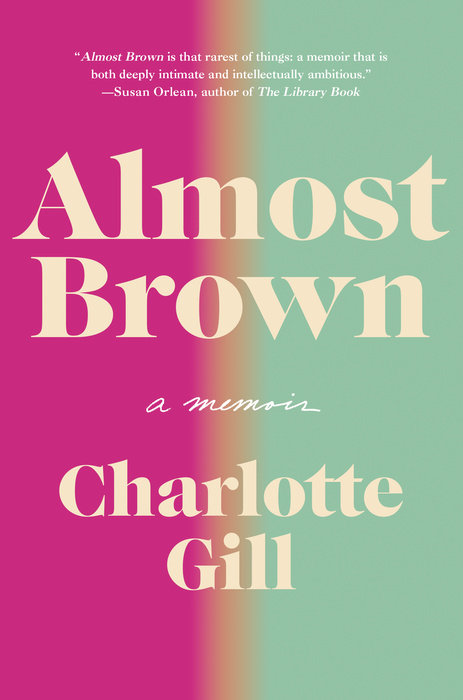 An award-winning writer retraces her dysfunctional, biracial, globe-trotting family's journey as she reckons with ethnicity and belonging, diversity and race, and the complexities of life within a multicultural household.
Charlotte Gill's father is Indian. Her mother is English. They meet in 1960s London when the world is not quite ready for interracial love. Their union results in a total meltdown of familial relations, a lot of immigration paperwork, and three children, all in varying shades of tan. Together they set off on a journey from the United Kingdom to Canada to the United States in an elusive pursuit of life, liberty, and happiness—a dream that eventually tears them apart.
Almost Brown is an exploration of diasporic intermingling involving two eccentric parents from worlds apart and their half-brown children as they experience the paradoxes and conundrums of life as it's lived between race checkboxes. Their intercultural experiment features turbans and tube socks, chana masala and Cherry Coke. Over time, Gill's parents drift apart because they just aren't compatible. But as she too finds herself distancing from her father—Why is she embarrassed to walk down the street with him and not her mom?—she doesn't know if it's because of his personality or his race. Is this her own unconscious bias favoring one parent over the other in the racial tug-of-war that plagues our society? Almost Brown looks for answers to questions shared by many mixed-race people: What am I? What does it mean to be a person of color when the concept is a societal invention and really only applies halfway if you are half white? Eventually, after years of silence, Gill and her father reclaim a space for forgiveness and love.
In a funny, turbulent, and ultimately heartwarming story, Gill examines the brilliant messiness of ancestry, "diversity," and the idea of "race," a historical concept that still informs our beliefs about ethnicity today.
Tags:
Charlotte Gill
,
London
,
Penguin Random House